Bay College Hosts Only Home Cross Country Meet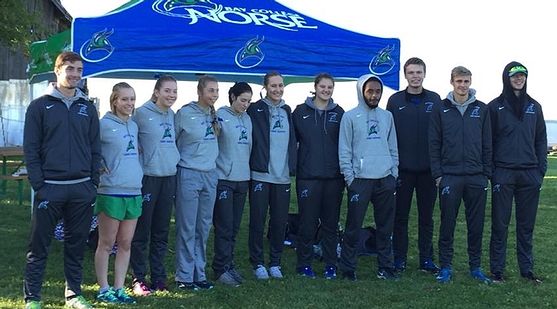 ESCANABA---The Bay Norse Cross Country teams hosted the Quality Inn & Suites Invitational on Saturday at the Beauchamp Farm in Delta County.

In the women's meet, just two teams would finish with a team score, with Lake Superior State topping Bay College.

Zoie Berg (SO, Gladstone, MI) would cross the line with a time of 21:02, putting her in third place overall in the 5K race. Lauren Cousineau (FR, Escanaba, MI) would finish in 24:39, while Lauren Peters (FR, Munising, MI) came in at 25:22.

Jody Peters (SO, Gladstone, MI) posted a time of 27:16, while Katy Combs (SO, Escanaba, MI) would round out the Norse scoring with a time of 30:11.

Rebecca Lathrop (JR, Eaton Rapids, MI) would lead all runners with a time of 20:35.

Outside of Berg, Lake Superior State would take the other top seven spots to end the day with a team score of 18.

In the men's meet, the Norse were edged by Sault College to finish third overall.

The Norse would amass a team score of 65, falling just behind Sualt College, with 60 points. LSSU won the men with 15 points.

James Young (FR, Gladstone, MI) would once again pace Bay, crossing the line in tenth with an 8K time of 30:29. Connor Robinson (FR, Powers, MI) ended his day in 14th overall, with a time of 33:25, while Steven Magnuson (SO, Cheboygan, MI) came in just behind his teammate with a time of 34:29.

Devonte Grierand Trent Marenger would round out the scoring for the Norse.

Lake Superior State's David Mitter (SO, Howell, MI) would take the top spot on the day, with a time of 26:37. LSSU would have eight runners finish the race before any other team would have competitor cross the line.

The Norse are back on the road nest week as they travel to the University of Minnesota on September 29.