Bruce Dominates; Marquette Depth Wins XC Invite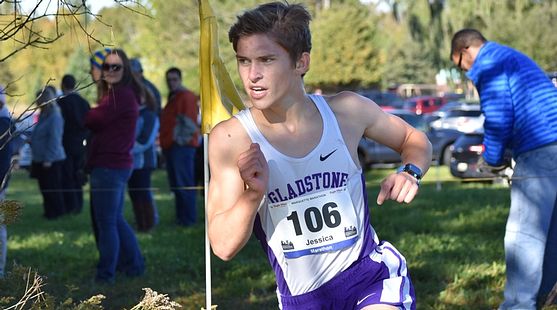 FLAT ROCK---The Gladstone Braves boys cross country team had the top three fastest times at the Barnyard Invitational Thursday in Flat Rock.

But the Marquette Redmen had even more depth and won the meet, 45-61.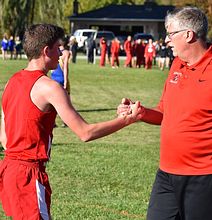 Marquette also won the girls meet, 42-62, over second place Menominee.

Gladstone senior Adam Bruce burned up the course, finishing in 16 minutes, 24.6 seconds. He won the meet by roughly 70 seconds over teammate Jake Strassler (17:34), with teammate Giovanni Mathews (17:42) taking third.

Marquette had the fourth, eighth, tenth, eleventh, and 17th place finishers.

St. Ignace's Elizabeth Becker won the girls meet, finishing in 20 minutes, 28.4 seconds.

Superior Central's Danika Walters took second (20:40) and Munising's Maddy Peramaki was third (20:46). Marquette, however, had the fourth, seventh, ninth, 13th, and 14th finishers to win the girls tournament championship.

The individual results are posted below, tabulated by Superior Timing.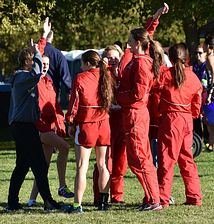 The boys team scores were:
Marquette 45
Gladstone 61
Newberry 78
Menominee 110
Rapid River 136
Escanaba 140
Stephenson 154
Manistique 203

The girls team scores were:
Marquette 42
Menominee 62
Kingsford 101
St. Ignace 105
Munising 107
Gladstone 130
Newberry 180
Escanaba 198
Stephenson 200

Click the thumbnails in the ARTICLE HIGHLIGHTS box above to see photos and the video replay of the end of both races.


Boys Varsity
1
1
106
Adam Bruce
Gladstone
16:24.6
5:17
2
2
140
Jake Strasler
Gladstone
17:34.0
5:40
3
3
138
Giovanni Mathews
Gladstone
17:42.0
5:42
4
4
264
Mathurin Gagnon
Marquette
17:44.5
5:43
5
5
251
Alex Misniakiewicz
Manistique
17:45.8
5:43
6
6
406
Ephram Evans
Newberry
17:46.2
5:43
7
7
389
Hunter Shepeck
Menominee
17:55.5
5:46
8
8
267
Hogan Nemetz
Marquette
17:57.1
5:47
9
(<5)
429
Griffin Johnson
Powers North Central
17:58.8
5:48
10
9
271
Moses Waite
Marquette
18:04.6
5:49
11
10
268
Peyton Osborne
Marquette
18:06.1
5:50
12
11
408
Evan Griffis
Newberry
18:06.8
5:50
13
12
41
Derek Douglas
Escanaba
18:07.4
5:50
14
13
384
Landen Clausen
Menominee
18:13.8
5:52
15
14
269
Matthew Pillifant
Marquette
18:25.1
5:56
16
15
33
Brodey Bevins
Escanaba
18:26.2
5:56
17
(16 )
265
Julien Malherbe
Marquette
18:35.8
5:59
18
17
403
Chase Canfield
Newberry
18:38.3
6:00
19
18
1277
Azariah Hernandez
Rapid River
18:39.4
6:01
20
(19 )
262
Cadin Cahill
Marquette
18:39.5
6:01
21
20
405
Logan Depew
Newberry
18:43.5
6:02
22
21
1043
Evan Kakuk
Stephenson
18:45.0
6:02
23
(<5)
1223
Larson Nebel
Munising
18:51.8
6:05
24
(<5)
184
Brandon Malburg
Kingsford
19:03.2
6:08
25
22
1294
Ishmael Hernandez
Rapid River
19:04.8
6:09
26
23
127
Blake Krouth
Gladstone
19:05.0
6:09
27
(<5)
1375
Adam Cavagnetto
Norway
19:09.1
6:10
28
24
409
Jared Wallace
Newberry
19:16.8
6:13
29
25
1012
Buckley Corey
Stephenson
19:18.9
6:13
30
26
386
Braeden Park
Menominee
19:41.5
6:21
31
27
1295
Noah Sefcik
Rapid River
19:42.9
6:21
32
(28 )
407
Jack Fillmore
Newberry
19:46.9
6:22
33
29
1002
Aaron Cappaert
Stephenson
19:48.3
6:23
34
30
388
Nick Sandahl
Menominee
19:52.9
6:24
35
31
1308
Nathan Olson
Rapid River
19:55.7
6:25
36
(<5)
188
Luke Ruble
Kingsford
19:56.5
6:25
37
32
103
Andrew Bracket
Gladstone
20:05.9
6:29
38
(33 )
404
Julian Carey
Newberry
20:14.2
6:31
39
34
387
Adam Sandahl
Menominee
20:14.3
6:31
40
35
63
Colin Hudson
Escanaba
20:23.7
6:34
41
36
70
Charlie Tackman
Escanaba
20:41.8
6:40
42
(<5)
185
Parker Morgan
Kingsford
20:44.4
6:41
43
(37 )
385
Friamy Delacruz
Menominee
20:45.0
6:41
44
(<5)
1373
Jeff Vanhollen
Norway
20:49.7
6:43
45
38
1341
Avery Closs
Rapid River
20:50.2
6:43
46
(<5)
193
Luke Sturm
Kingsford
20:51.8
6:43
47
39
1079
Joey Starzynski
Stephenson
21:07.7
6:48
48
40
1056
Trae Larson
Stephenson
21:11.3
6:50
49
(41 )
1321
Matt Snay
Rapid River
21:23.5
6:54
50
42
45
Jared Hansen
Escanaba
21:25.4
6:54
51
(43 )
1345
Garrett Novak
Rapid River
21:41.4
6:59
52
(44 )
107
Nolan Johnson
Gladstone
21:51.5
7:03
53
(45 )
449
Ashton Barstow
Stephenson
21:56.1
7:04
54
46
252
Jude Way
Manistique
22:21.1
7:12
55
(47 )
383
Jason Bowers
Menominee
22:24.9
7:13
56
(48 )
1010
Trent Cappaert
Stephenson
22:48.6
7:21
57
49
240
Mitchell Green
Manistique
23:51.6
7:41
58
(<5)
1376
Alex Linsenbigler
Norway
23:54.5
7:42
59
(<5)
431
Dominic Naser
Powers North Central
24:47.6
7:59
60
(50 )
65
Zach Morehouse
Escanaba
25:09.8
8:07
61
51
242
Cameron Whisken
Manistique
26:10.0
8:26
62
52
244
Caleb Howard
Manistique
26:11.1
8:26
63
(<5)
433
Dakota Schwark
Powers North Central
28:50.4
9:18
64
(53 )
114
Dylan Krause
Gladstone
29:07.3
9:23
65
(<5)
1374
Drew Anderson
Norway
29:19.7
9:27
Girls Varsity
1
1
439
Elizabeth Becker
St. Ignace
20:28.4
6:36
2
(<5)
1220
Danika Walters
Superior Central
20:40.1
6:40
3
2
1236
Maddy Peramaki
Munising
20:46.3
6:42
4
3
354
Delaney Sall
Marquette
20:57.2
6:45
5
4
392
Hayden Buck
Menominee
21:03.7
6:47
6
5
201
Sarah Kulas
Kingsford
21:08.4
6:49
7
6
309
Reegan Ketzenberger
Marquette
21:09.3
6:49
8
7
202
Lily Menghini
Kingsford
21:10.4
6:49
9
8
276
Ericka Asmus
Marquette
21:14.3
6:51
10
9
390
Katie Anderla
Menominee
21:23.7
6:54
11
10
443
Hallie Marshall
St. Ignace
21:45.2
7:01
12
11
393
Jaida Lesperance
Menominee
22:04.1
7:07
13
12
282
Samantha Borzick
Marquette
22:08.2
7:08
14
13
353
Olivia Moffitt
Marquette
22:09.1
7:08
15
14
142
Jamisyn Bergeron
Gladstone
22:10.9
7:09
16
15
98
Ciara Ostrenga
Escanaba
22:11.7
7:09
17
16
414
Jorja Suriano
Newberry
22:29.7
7:15
18
17
1248
Megan Matson
Munising
22:52.6
7:22
19
18
391
Abby Bradfield
Menominee
22:57.0
7:24
20
19
1099
Kylee Kuntze
Stephenson
23:02.3
7:25
21
20
394
Maren Park
Menominee
23:08.1
7:27
22
21
203
Sydney Scott
Kingsford
23:08.4
7:27
23
(22 )
369
Tauni Camilli
Marquette
23:12.7
7:29
24
23
1246
Jenna Matson
Munising
23:12.8
7:29
25
24
444
Allison Schultz
St. Ignace
23:13.9
7:29
26
25
146
Chloe Charlebois
Gladstone
23:28.1
7:34
27
26
194
Gabby Carey
Kingsford
23:35.1
7:36
28
27
410
Cora Bufford
Newberry
23:38.4
7:37
29
28
147
Lilly Karl
Gladstone
23:46.7
7:40
30
(29 )
370
Melanie Gilliam
Marquette
23:51.9
7:41
31
30
151
Samantha Strasler
Gladstone
24:02.9
7:45
32
31
1249
Tay Behning
Munising
24:05.0
7:46
33
32
445
Mariana Zaragoza
St. Ignace
24:09.1
7:47
34
33
153
Lydia Tembreull
Gladstone
24:13.8
7:48
35
(<5)
1377
Jessica Lacount
Norway
24:15.9
7:49
36
34
1251
Carlen Deatsman
Munising
24:25.3
7:52
37
(35 )
160
Aleyna Wetthuhn
Gladstone
24:28.6
7:53
38
36
416
Makayla Wolf
Newberry
24:46.7
7:59
39
37
1174
Kara Solander
Stephenson
24:47.0
7:59
40
38
440
Addison Cheeseman
St. Ignace
24:52.5
8:01
41
(39 )
441
Emily Coveyou
St. Ignace
25:01.0
8:04
42
(<5)
1209
Sophie Maki
Superior Central
25:04.2
8:05
43
40
95
Kyra Magnuson
Escanaba
25:10.6
8:07
44
(41 )
152
Jenna Tardiff
Gladstone
25:26.6
8:12
45
42
197
Grace Cole
Kingsford
25:26.8
8:12
46
43
1137
Ally Schultz
Stephenson
25:59.2
8:22
47
(44 )
198
Emily Curtis
Kingsford
26:11.8
8:27
48
(<5)
1347
Aerinna Spriks
Rapid River
26:34.2
8:34
49
45
83
Ava Fix
Escanaba
26:37.7
8:35
50
46
1124
Shelby Pleshek
Stephenson
26:39.8
8:36
51
(47 )
442
Makayla Hess
St. Ignace
27:02.9
8:43
52
48
81
Holly Chenier
Escanaba
27:12.1
8:46
53
49
415
Adrika Tomica
Newberry
27:13.9
8:47
54
50
85
Brooke Furmanski
Escanaba
27:42.6
8:56
55
(51 )
91
Gabi Lacosse
Escanaba
27:48.8
8:58
56
52
412
Madison Grigg
Newberry
27:54.6
9:00
57
(<5)
434
Olivia Arnold
Powers North Central
28:08.4
9:04
58
(53 )
411
Briana Derusha
Newberry
28:10.6
9:05
59
(<5)
1355
Madi Lachance
Rapid River
28:21.9
9:09
60
(54 )
395
Amber Poquette
Menominee
28:30.0
9:11
61
55
1092
Peyton Cole
Stephenson
28:33.6
9:12
62
(<5)
435
Andie Arsenault
Powers North Central
29:06.7
9:23
63
(56 )
1269
Audree Hines
Munising
30:23.5
9:48
64
(57 )
1112
Valentino Paino
Stephenson
30:34.3
9:51
65
(58 )
82
Jillian Cobb
Escanaba
30:50.1
9:56
66
(<5)
437
Belen Bermejo Garcia
Powers North Central
32:19.9
10:25
67
(<5)
1203
Willow Lindgren
Superior Central
32:37.6
10:31
68
(<5)
259
Giulia Rota
Manistique
34:16.7
11:03
69
(59 )
1270
Macide Cornish
Munising
34:21.4
11:04