SPECIAL SENIORS: Escanaba Rallies Past Norway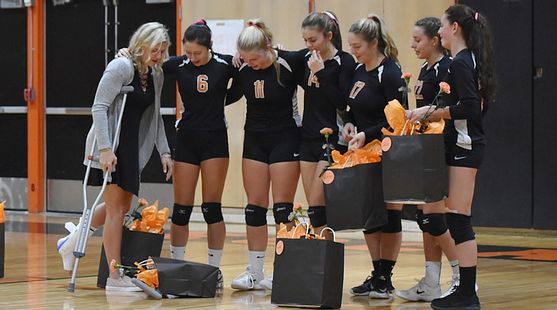 ESCANABA---The Escanaba Eskymos dropped the first set of Monday night's volleyball match against the Norway Knights, but roared back to win the next three sets and take the match, 3-1. The scores were 19-25, 25-10, 25-19, 25-20.

Seven Eskymo seniors were honored before the match: Lexi Chaillier, Kylee Johnson, Paxton Johnson, Katie Wilson, Haillie McDonough, Katie Lord, and Gabby Stalboerger.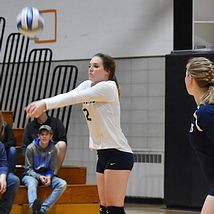 "Im not going to say it was a perfect game for us," Escanaba Coach Adam Lambert said. "But they came out with good spirits and it was senior night and all, last real home game for our team, so it was emotional for some of the girls."

"At the end of the day, they just like to play volleyball, so they want to go forward."

Chaillier did not play due to an ankle injury.

"Lexi is a big player for us," Lambert said. "Our team is a good team, and they pulled together. We're all hoping that Lexi heals like Super Woman and gets back sooner than later. We also have some other players who are stepping up, too."

It was the final regular season home match for the Eskymos, although the girls will host the Great Northern Conference tournament this Saturday.

Click the thumbnails in the ARTICLE HIGHLIGHTS box above to see photos, video highlights, and hear comments from Coach Adam Lambert.