Fast Start Helps Cardinals Fly Past Wildcats, 30-10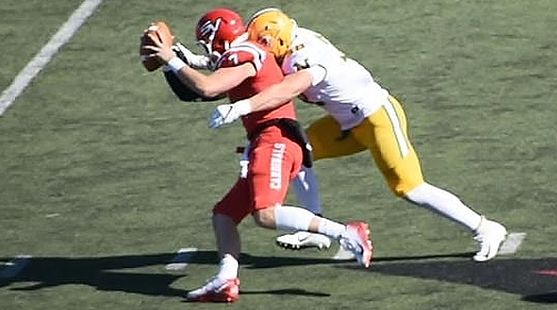 SAGINAW---The Northern Michigan University football team fell into an early 14-0 hole and couldn't dig out, losing, 30-10, Saturday at Saginaw Valley State.

SVSU quarterback Ryan Conklin threw three touchdown passes to receiver Chad Gailliard to help the Cardinals improve to 6-1. The two hooked up ten times for 212 yards. Conklin completed 15-of-23 passes for 280 yards, all told.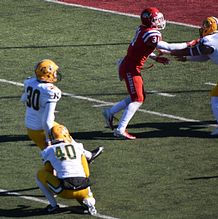 DeJuan James rushed 19 times for 119 yards and a touchdown for SVSU.

NMU's best drive was a fast-paced, 80-yard, 15-play drive that stalled in the red zone, ending in a 22-yard field goal from Daniel Riser. That cut the deficit to 17-3 at halftime, but the Cardinals scored on their next two possessions to pull away.

Kole Stealey got the start at quarterback for the first time, after a successful relief appearance last week in the fourth quarter against Northwood.

But this time, the Cardinals sacked him four times and he threw a pair of interceptions.

Latrell Giles came on in relief and scored the Wildcats' only touchdown on a two-yard run. He had 66 yards on nine carries.

Wildcat senior captain Jake Mayon moved closer to becoming NMU's All-time rusher, as he carried the ball 26 times for 118 yards. He also caught a 20-yard pass.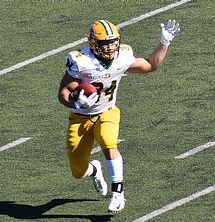 After recalculating Mayon's career rushing totals to correct a mistake made the prior week, the NMU Sports Information department says that Mayon needs 211 more yards to become the university's career rushing leader.

Linebacker Isaac Darkangelo led the way on defense with his second straight standout game. The Detroit Catholic Central graduate had two sacks in the second quarter of Saturday's game, and had 14 tackles and a forced fumble.

Safety Brady Hanson reached double digits in tackles for the fourth time this season with 14 tackles of his own.

And senior Abram Cook posted a sack and six tackles.



NMU will now return to the Superior Dome and take a break from GLIAC action as they host Lawrence Technological University on Saturday. The Blue Devils are now 5-1 after losing for the first time on Saturday to Indiana Wesleyan.

Saturday's game starts at 1:00. It will be broadcast live on WUPT-FM (100.3 The Point) and WCHT-AM (NewsTalk 600), and on-line at www.rrnsports.com.

Click the thumbnails in the ARTICLE HIGHLIGHTS box above to see photos and video highlights. Also, click the AUDIO buttons to hear interveiws with Kole Stealy and Isaac Darkangelo.