PERFECT SEASON: Ishpeming Rolls Past Broncos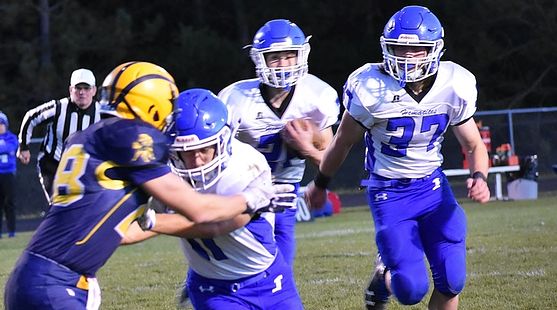 HARRIS---The Ishpeming High School football team scored 46 points in the first quarter and rolled to a 54-13 win over the Bark River-Harris Broncos Thursday night in Harris. The Hematites finished their regular season with a perfect 9-0 record.

The Broncos finished the season at 2-7.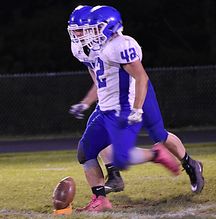 The Sundberg twins continued to dominate on offense, continuing a season-long theme for the Hematites.

Older brother Gavin (by 20 minutes) tossed a 33-yard touchdown pass to Drake Sundberg to get the scoring started, and then both had touchdown runs on the ground the next two times that Ishpeming had the ball.

The Hematite defense got a big score as Logan Kruhlik picked up a fumble and took it to the house for a 47-yard "scoop-and-score" touchdown.

A scary moment in the second quarter for the Broncos when senior Darren Labre was taken off the field in an ambulance. Word came later that it was precautionary.

Shortly after that delay, the Broncos scored on a 35-yard touchdown pass from sophomore quarterback Nick Javurek to senior Colton Brunette.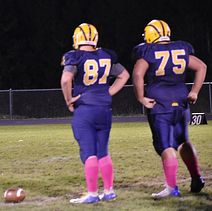 In the second half, Javurek tossed a 53-yard touchdown pass to senior Willy Schmitt, and Schmitt kicked the extra point.

The game was the final one for eight Bronco seniors, and it was Parent's Night as well.

Four BR-H alums who served in the miltary were honored at halftime, as was BR-H senior Wyatt Massie, who will be joining the Air Force after graduation.

Click the thumbnails in the ARTICLE HIGHLIGHTS box above to see photos, videos.