SKID-ENDING WIN: Wildcats Beat Lawrence Tech

MARQUETTE---The Northern Michigan University football team broke a five-game losing streak on Saturday, topping the Lawrence Tech Blue Devils, 65-7, at the Superior Dome. The Wildcats scored 30 points in the first quarter and played plenty of subs as they cruised past the first-year NAIA school from suburban Detroit.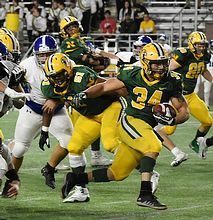 Wildcat senior Jake Mayon was unstoppable in the first quarter, carrying 12 times for 121 yards and three touchdowns. He scored on runs of three, nine, and 21 yards, and then sat out the rest of the game. That left him just 90 yards short of becoming the all-time leading rusher in Northern Michigan University football history.

And the way things were going, Mayon would have easily picked up those 90 yards, but Wildcat Coach Kyle Nystom wanted to see as many guys as possible in this one. And he wanted no fluke injuries with arch-rival Michigan Tech coming to town next week.

Deandre Caldwell came on in relief, and he did his job, rushing for 171 yards on 20 carries. He scored on a 25-yard touchdown run in the second quarter.

Third-string running back Scott Tripp also got his touches in the second half. The Marquette High School standout carried 19 times for 68 yards, and he scored two touchdowns, on runs of seven and 12 yards.

In the air, quarterback Kole Stealy threw just four passes, but completed three of them, including an excellent touchdown pass in the corner of the end zone to Ben Loutsis.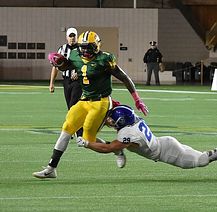 True freshman quarterback Isiah Wright checked in for the first time this season, and completed all four of his pass attempts, including a 36-yard touchdown pass over the middle to Ravon Johnson in the third quarter.

Northern's defense was tough, except for three long passes that Lawrence Tech quarterback Tyler Kulka was able to complete.

Two of those completions keyed a 86-yard, nine-play drive in the second quarter that Kulka finished with a two-yard touchdown run. He completed 13 of 32 passes for 156 yards.

NMU's biggest defensive play came in the first quarter when senior lineman Brad Gustafson tipped a ball in the air and intercepted it deep in Blue Devil territory. The North Dickinson High School graduate returned it to the Lawrence Tech ten.

Northern's special teams unit also came up big with a blocked punt that went out the back of the end zone for a safety, giving the 'Cats a 23-0 lead at the time. Freshman placekicker Daniel Riser made all nine of his extra point attempts.

NMU had 600 yards of total offense, with 444 of them coming on the ground.

The Wildcats improved to 2-6 on the season and will take on Michigan Tech (3-5) next Saturday. The Huskies lost at Ashland (Ohio), 27-7, on Saturday.

Click the thumbnails in the ARTICLE HIGHLIGHTS box above to see photos and videos taken by Nate Bellville. Also, click the AUDIO buttons to listen to radio replays; interviews with Vinny Propson and Abram Cook.