Wildcats Fall To Michigan State In Exhibition Game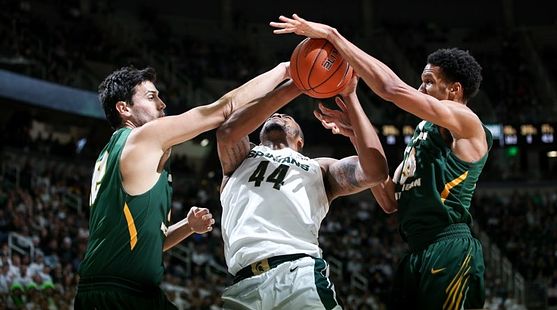 EAST LANSING---The Northern Michigan University men's basketball team lost an exhibition game to the tenth-ranked Michigan State Spartans, 93-47, Tuesday night at the Breslin Center in East Lansing.

Nick Ward had 24 points and Casius Winston had 13 points for State.



The Wildcats were led by senior Naba Echols (Memphis, Tenn./Mitchell), who finished with 23 points on 9-17 shooting. Echols also had two assists and a steal.


Junior Marcus Matelski (Boyne Falls, Mich.) hit two three-pointers for six points with junior Sam Taylor (Chicago, Ill./Thornton) also finishing with six points.

Senior Isaiah Johnson (Whitefish Bay, Wis.) and junior Myles Howard (Chicago, Ill./Marian Catholic) both had five points. Howard and Taylor paced the team with five rebounds while sophomore Dolapo Olayinka (Chicago, Ill./Mather) and Echols both finished with four rebounds.


Defensively, Howard and Taylor notched two steals each.

Olayinka, Howard and senior Max Prendergast (Grand Rapids, Mich./Grand Rapids West Catholic) each had a block.

The Spartans scored first but Echols scored in the paint to get the score tied. MSU answered with two free throws and then hit a three before Echols hit a jumper to make it 7-4. Two more MSU free throws pushed the score to 9-4 but Johnson scored a basket and was successful on the and-one opportunity to make it 9-7 at the first media timeout.


Out of the timeout, the Spartans started to show why they are ranked 10th in Division I as they went on a 22-0 run until Howard hit a basket in the lane to stop the rally.

Echols added a layup and a free throw later in the half, but Michigan State kept up their pace and took a 43-13 lead into halftime.

Starting the second half, the Spartans scored the first seven points until Echols hit a jumper. Howard added a free throw and Echols hit his second three of the game, followed by Matelski's first but MSU continued their offensive success and at the second media timeout, with 11:42 left to play, the Spartans were up 62-22.

The Wildcats were the second Great Lakes Intercollegiate Athletic Conference team to play a top 10 ranked team, as Ferris State University fell to Duke University 132-48.

NMU will officially begin regular season play Saturday, November 10 as they host McKendree University and then host Lewis University Sunday, November 11.

Both games will be played in the Berry Events Center.