Norse Men's Basketball Wins Twice In Minnesota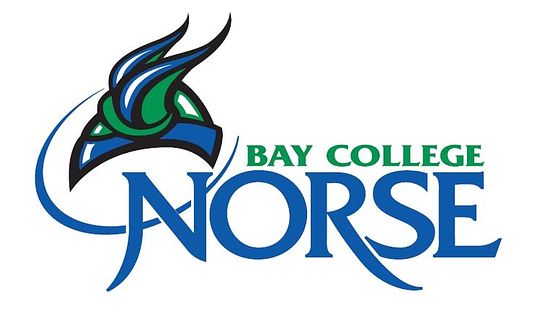 ROSEMOUNT, Minn.---Ryan Robinette scored 24 points and Alfonso Fields added 18 as the Bay College Norse men's basketball team pulled out a wild 116-107 overtime victory over Bismarck State (ND) at a tournament in Minnesota.

The Norse trailed by as many as 17 points, then led by ten, before the Mystics came back to force overtime. Bay outscored the Mystics, 11-2, in overtime.

Marcus McKenney scored 16 points and Logan Hardwick had a double-double of 12 points and 10 rebounds off the bench. Kobi Barnes scored 12 points and Christian Alexander aded ten as the Norse had six players score in double figures.

Robinette made six of eight three-point attempts, and shot 8-for-13 from the floor. Fields made four triples as the Norse sank 15 of 29 triple tries.

Tyler Willette was solid again, with seven points and nine rebounds.

Kyler McGillis and Grant Kouhlus both had 21 points for Bismarck State. Hart Andes had a double-double with 15 points and 12 rebounds,

Bay College (2-2) also won on Friday, over United Tribes (ND), 88-81, as Reggie Dean scored 18 points and Kobi Barnes added 17. Alexander and Robinette both scored ten points while Willette added eight points and 12 rebouds in the win.

Bay led, 50-35, at halftime before the Thunderbirds made a late charge. Rob McClain scroed 23 points and Montel Carlow added 20 for United Tribes.

The Norse take on UW-Marinette in their home opener Wednesday night.

The following was written by Mike Pankow, Bay College:



The Bay Norse (2-2) would overcome a big first half deficit to take a double-digit lead in the second half, only to see the Bismark State College Mystics (1-5) tie the game late and force overtime. The Norse would dominate the extra period, ending with a 116-107 victory.


Bismark College came out hot in the early going, hitting on 54.5% of their shots from the field. Those numbers would include converting seven of 17 from behind the three-point arc. The Mystics would lead by as many as 17 in the early going.

Despite shooting a solid percentage from the floor (41.7%), mistakes would hurt the Norse and help the Mystics build a lead in the first half. Bismark State would take advantage of eight Norse turnovers, scoring 14 points off of those mistakes, which coincidentally would end up being the difference in the score at the half, as Bay College would be down 56-42 at intermission.


In a tale of two halves, the Norse would fight their way back into the matchup. They would be credited with just one turnover for the rest of the game.

Bay College would get hot from three, hitting ten of 16 in the second half. Ryan Robinette (FR, Escanaba, MI) would knock down five of six attempts from deep, while Alfonzo Fields(SO, Milwaukee, WI) would drop of three of six three-pointers to seal the comeback and help the Norse take the lead. Bay College would lead by as many as ten late in the game, but the Mystics would fight back. With the score tied at 105 and time winding down, both teams would see potential game-winning possessions go to the wayside. Kyjuan Johnson (SO, Minot, ND) would miss from about 15 feet as time ran out on the final Bismark State possession of regulation, forcing overtime.


The Norse would score early and extend their lead in the extra frame. Bay College would surrender just two points in overtime, while scoring 11 to put the game away. The Norse would hit three of eight attempts from the field in overtime, and four of six from the free throw line to end up with their second win in as many days.


"I was very happy with the way we responded in the second half," said Head Coach Matt Johnson. "We played with much more heart and energy. What we did in the second half offensively shows what we are capable of. Now we need to grow from this weekend and become more consistent. I can't say enough how proud I am of how we competed and never gave up. It was a great team win."


Robinette would lead all scorers with 24 points. Fields would score 18 points, grab seven rebounds, and be credited with three assists. Marcus McKenney (SO, Menominee, MI) ended the game with 16 points, while Kobi Barnes (SO, Milwaukee, WI) would add 12 points and seven rebounds. Logan Hardwick (FR, Rapid River, MI) would tally a double-double, scoring 12 points and grabbing ten rebounds, while Christian Alexander(FR, Dorset, UK) would score ten points.


For the Mystics, Kyler McGillis (FR, St. John, ND) would score 21 points and five assists, while Grant Kohlus (SO, Eagle Butte, SD) would end up with 21 points and four assists. Hart Andes (FR, Plaza, ND) would end up with a double-double, scoring 15 points and grabbing 12 rebounds. Austin Slaughter (SO, Grand Forks, ND) would score 14 points.

The Norse look to continue their momentum on Wednesday. For the first home game of the season, Bay College will welcome UW-Green Bay, Marinette into town for an 8 pm start.