Norse Stop Marinette For Third Straight Win, 92-66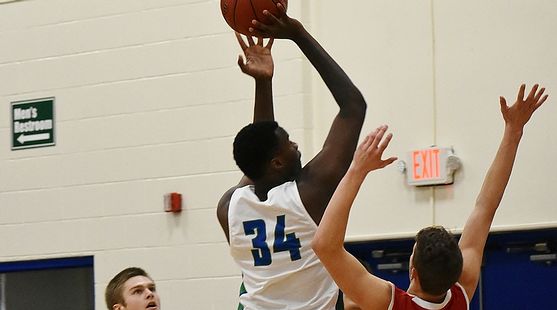 ESCANABA---Ryan Robinette scored 26 points and Christian Alexander added 23 as the Bay College Norse topped the UW-Marinette Buccaneers, 92-66, Wednesday night in Escanaba. It was Bay College's third straight win after two losses in Iowa.


Robinette, an Escanaba High School graduate, nailed a three-pointer late in the first half that expanded what was a six-point lead.

Then Rapid River graduate Logan Hardwick followed with a triple of his own, making it a 47-35 lead at halftime.

Robinette's wide-open three from the right corner keyed a 7-0 run to start the sceond half, giving Bay a 54-35 lead that Marinette never got below 14 the rest of the way.

The rest of the second half was all about Alexander, the 6-foot-9, 235-pound freshman who comes to Escanaba from Great Britain. He made several plays inside for put-backs over the smaller Buccaneer players, with his highlight being a slam dunk after a spin move and drive down the base line. He had two dunks in the contest.

Alexander was also a terror on the boards for the Norse, finishing with 23 rebounds, 16 of them on the offensive end. Hardwick ended up with 15 points and ten rebounds.



Head Coach Matt Johnson was pleased with his team's progress after the game.

"We played with a lot of energy for the majority of the game," he commented. "We are definitely starting to figure out how hard you have to play to have success at this level. We do still have a long ways to go, but it's fun to watch them start to figure it out. Christian Alexander had a great game, he continues to get better. Logan Hardwick and Ryan Robinette both had another strong performance. We continue to have different guys step up."


Connor Heise (SO, Lena, WI) would set the pace for the Buccaneers, scoring 18 points and dealing four assists. Jack Farley (FR, Marinette, WI) would add 11 points, while Connor Nelson (SO, Marinette, WI) would score nine points and grab six rebounds.


Marcus McKenney had a strong all-around game, especially with his passing, making assists on baskets by Afonzo Fields and Tyler Willette in the first half. He had seven assists.

Willette and Hardwick both fouled out as both teams ended the game in the double-bonus.

Bay College (3-2) hosts Western Tech (Wis.) on Saturday at 3:00.

Click the thumbnails in the ARTICLE HIGHLIGHTS box above to see photos, videos, and hear Alfonzo Fields player spotlight interview, plus comments from Coach Matt Johnson and Player of the Game Christian Alexander.