RUNNIN N GUNNIN: Norse Outlast Hibbing, 96-81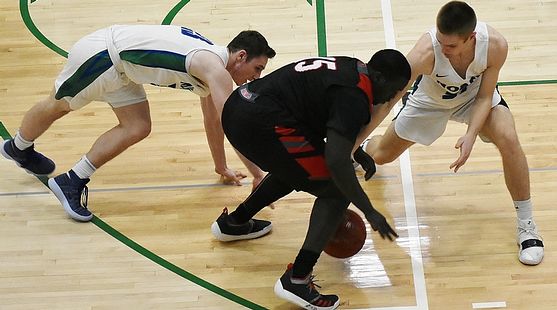 IRONWOOD---The Bay College Norse men's basketball team outgunned the Hibbing (Minn.) Community College Cardinals, 96-81, Saturday at a tournament in Ironwood.

Rapid River graduate Logan Hardwick keyed a big start of the second half by scoring nine of his 19 points. Escanaba graduate Ryan Robinette also scored 19 points and Menominee graduate Marcus McKenney added 16 points.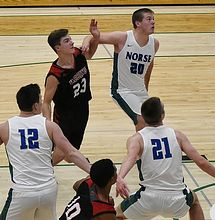 The game featured a combined 66 three-point shot attempts, with Hibbing hoisting up 38 of them. Bay made 10-of-28 treys while the Cardinals made 15 of their 38.

Christian Alexander had 13 points, giving the Norse five players scoring in double figures. The freshman from Great Britain also led the Norse with eight rebounds.

The Norse led, 23-22, when the two teams started firing up three-pointer after three-pointer. In one stretch, there were six staright made triples, three by each team.

It was 43-34 at halftime, and then Hardwick keyed a 9-0 run to start the second half, making it a 52-34 game. The Cardinals closed two within 11 on one occassion, but could get no closer as Cade Contreras and Ryan Arndt both nailed three's off the bench.

Tyler Willette had seven points while Alfonzo Fields and Contreras both had six.

Amaun Ryan and David Faitha both had 19 points for the Cardinals (0-2).

The Norse have won five straight games and are now 5-2 on the season. They face Vermillion (Minn.) College Sunday at 1:00. The game will be broadcast live on WGMV-FM (Maverick 106.3) and on-line at www.radioresultsnetwork.com.

Click the thumbnails in the ARTICLE HIGHLIGHTS box above to see photos and videos taken by Taylor Hunter. Also listen to interviews with Logan Hardwick, Coach Matt Johnson, and with Ryan Arndt.