STEPPING UP: Barnes, Dean Take Over For Norse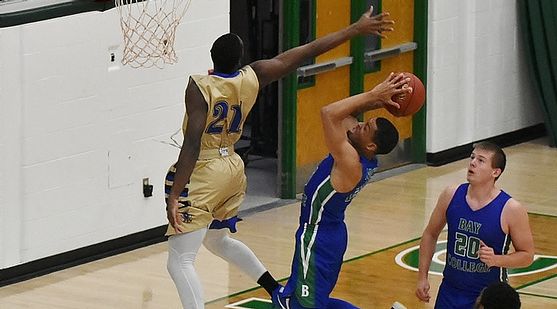 IRONWOOD---Kobi Barnes may be one of the quietest members of the Bay College men's basketball team. But when you make Kobi Barnes mad, you better get ready for him to start talking loudly: with his play on the court.

Barnes had a big second half after taking a hard foul in his back.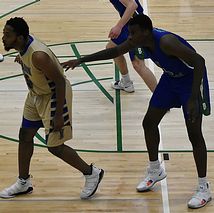 He scored 12 of his game-high 21 points after that play and led the Norse to a 84-67 win over the Vermillion (Minn.) Ironmen at the Linquist Center in Ironwood.

"It hurt pretty bad, but I continued to play because they were making a comeback," Barnes said. "It made me mad because they started talking stuff after that, so I decided to play harder."

"I don't know that that was the changing point of the game, but it was a big play for us, and I loved the way the kids responded," Norse Coach Matt Johnson said. "I guess that's the biggest things."

"The kids responded. Kobi sat a lot more yesterday than he's used to, and we got a much better effort out of Kobi tonight because of it."

Reggie Dean scored 19 points and was consistent all afternoon, with a pair of triples and ten points in the first half, and an "and-one" and nine points in the second half.

"Reggie and Kobi are the two guys that I challenged yesterday," Johnson said. "I sat them for the majority of the game yesterday. Today, they responded. They scored about 40 points between the two of them. Huge effort. It's awesome."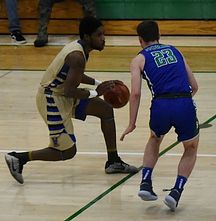 Marcus McKenney chipped in ten points in the first half, and Logan Hardwick had a third straight strong game with nine points as the Norse built a 52-33 halftime lead. Alfonzo Fields scored nine points and Tyler Willette scored six.

The Ironmen trailed, 52-29, before going on a 17-4 spurt to close to within 56-46 in the second half on a three-pointer Devontaye Spates. That's when Barnes was hit hard while taking a shot at the foul line, a hit that Johnson argued was an intentional, flagrant foul. That was not called, and Barnes missed both free throws.

But he scored on a pair of put-backs on the next two possessions, and Dean had a pair of fast break baskets, including one where he went coast-to-coast to answer an Ironmen basket.

Dean and Barnes combined to score 23 of Bay's 32 second-half points.

David Monell scored 13 points and Reggie Rogers added 12 for the Ironmen, Spates had 11 points and Taray Graves chipped in ten.

Vermillion (2-2) made eleven three-pointers as a team.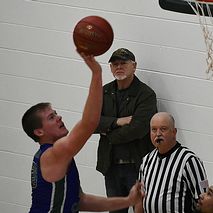 The Norse (6-2) have won six straight games after losing their season-openers in Iowa.

They are on the road again next weekend, taking part in a two-day tournament eight hours away at St. Clair County Community College in downstate Port Huron.

The Norse play the Mid-Michigan Lakers in their first game Friday afternoon at 4:00. It will be broadcast live on WGMV-FM (Maverick 106.3) and on-line at www.radioresultsnetwork.com.

The Norse play the host Skippers on Saturday.

Click the thumbnails in the ARTICLE HIGHLIGHTS box above to see photos and videos taken by Haley Trudell, and hear post-game comments from Barnes and Johnson. Also hear the interview with Cade Contreras.