Redmen Skate Past Eskymos In Rivalry Match-Up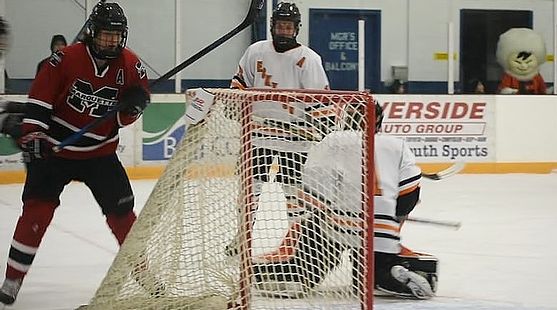 WELLS---Gaetanno Cammarata scored two goals and assisted on another as the Marquette Redmen topped the Escanaba Eskymos, 5-2, in high school hockey action Tuesday night at the Hannahville Ice & Turf in Wells.


It was Escanaba's season-opener while Marquette improved to 2-1-1 on the campaign, after splitting two games downstate and losing its home opener to Houghton.

Kyle Krutina and Grant Wickham scored for Escanaba in a losing effort.

Eskymo goaltender Trevor Denome made 30 saves in net, including 15 in the first period as the Redmen scored twice and held a 17-9 shots advantage.

Cammarata and Nick Leafers scored 14 seconds part midway through the period to make it 2-0, before Krutina scored on a power play late in the first period to make it 2-1.

Thomas Dunleavy scored in the second period to make it 3-1 before Wickham brought the Eskymos to within 3-2 with a pretty deke of Marquette goalie Brennen Hakkola.

Escanaba carried the play for much of the third period, but freshman Ayden Mylander took a penalty with six minutes left, giving Marquette its only power play of the game. The Eskymos killed it off, but two seconds after the penalty expired, Sean O'Connor scored, with Cammarata drawing the assis, to make it a 4-2 Redmen lead.

Cammarata added an empty-net goal with 46 seconds left to close the scoring.

Marquette outshot Escanaba, 35-16. Escanaba hosts Kingsford Thursday night.

Click the thumbnails in the ARTICLE HIGHLIGHTS box above to see photos and videos taken by Micky LaMarch, and listen to interviews with Grant Wickham and Ethan Silverstone. Also hear radoo replays and post-game comments by Coach Matt Hughes and Marquette Coach Doug Garrow.