DISAPPOINTING FINISH: Norse Win Streak Ends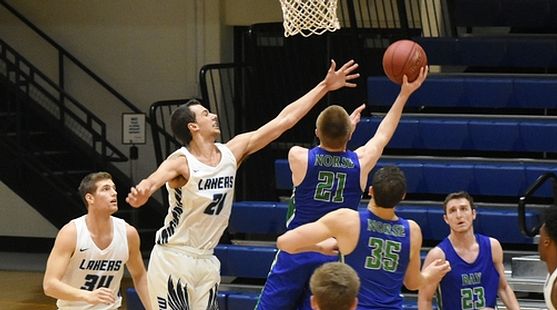 PORT HURON---The Bay College Norse men's basketball team had a ten-point lead late in the game, but lost in the final seconds to the Mid-Michigan Lakers, 69-68, Friday night, at the Skippers Holiday Classic in Port Huron.

The Norse got a monster game from Escanaba graduate Tyler Willette. He scored 20 points and pulled down 15 rebounds. Fourteen of his points came in the second half. Fellow Eskymo Ryan Robinette also scored 20 points, with six three-point baskets.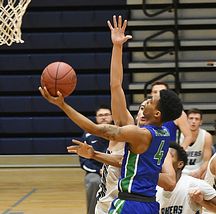 Bay College led, 68-63, after Kobi Barnes slammed home a Willette miss with 1:38 left in the game. The Norse did not score again.

Marcus McKenney, normally solid at the free throw line, missed two clutch free throws with 28 seconds left, so Bay College's lead stayed 68-65.

Down by three, Mid-Michigan's Colin Carter scored on the baseline with ten seconds left to make it 68-67, and then the Norse lost the ball shortly after inbounding it. The ball was loose on the floor and Robinette dove for it, and was called for a foul.

Jaylen Rutherford stepped to the line with 7.9 seconds left and made both free throws, putting the Lakers ahead, 69-68. Bay had plenty of time, and three time outs, but never got a good shot off, as Roninette's desperation heave missed after the final buzzer.

Alfonzo Fields joined the two Escanaba boys in double figures with 14 points.

The loss wiped out a great second half for the Norse, after a subpar first half performance. Bay trailed, 35-24, late in the first half before Robinette gave the team life with a buzzer-beating triple going into the locker room.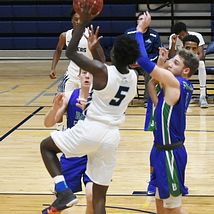 Then Robinette started the second half with another triple, making it 35-30, and later, fed Fields for a three that gave Bay the lead.

The Norse lead grew to 61-51 with 5:38 left after another Fields triple, but Bay was outscored 18-7 the rest of the way.

Rutherford had 14 points for the Lakers. Carter and Caleb Cooper both had 13.

Bay College made just 8 of 23 free throws, missing their first eleven from the line. The loss snapped Bay's six-game winning streak.

The Norse (6-3) take on the host St. Clair Community College Skippers Saturday at 5:00. The game will be broadcast live on Maverick 106.3 FM and at www.radioresultsnetwork.com.

Click the thumbails in the ARTICLE HIGHLIGHTS box above to see photos, videos, and listen to Reggie Dean's player spotlight interview.