EMPTY TRIP: Norse Drop Second Game Downstate

PORT HURON---The Bay College Norse men's basketball team had a 15-point lead early in the second half, but St. Clair County Community College went on a 35-10 run and beat the Norse, 91-78, Saturday in Port Huron. The loss capped a winless weekend for the Norse, despite playing well enough to win both games below the Bridge.

Bay also lost Friday, 69-68, to Mid Michigan, after holding a late 11-point lead.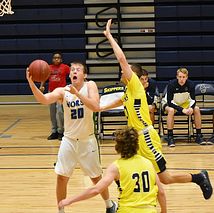 On Saturday, the Norse got off to a hot start as Ryan Robinette sank four triples, helping his team take a 21-11 lead.

Alfonzo Fields added a triple and a pair of two-point buckets, and Kobi Barnes had an "and one" basket and foul shot to help keep Bay in front.

The first half ended with a nice transition play as Robinette rebounded a missed shot with one hand, and in one motion, slugged it forward to Tyler Willette. Willette found Barnes coming up court, and Barnes made the sweet pass to a streaking Reggie Dean.

Dean finished the shot, got fouled, made the free throw, and it was 46-38 at the half.

Then Bay scored the first seven points of the second half to take a 53-38 lead.

But things turned around in the second half as the Skippers got their perimeter shooting going. Jalen Miller hit four straight triples, and the home team took their first lead of the game at 62-61. Dean answered with a basket to put the Norse back in front, but that was the last time Bay had the lead as the Skippers scored eleven more points in a row.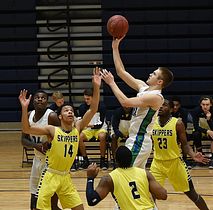 Four of them came on a three-point basket by Omari Duncan, and he wass fouled on the play. He made the free throw for a four-point play, making it 71-63 with 9:00 left.

Miller led the way for the Skippers with 25 points and 11 rebounds. Duncan had 18 points, with those four being his only points of the second half. Robinette had 21 points and Fields added 16 for the Norse. Dean and Barnes both added 12 points.

It was a frustrating weekend for the Norse, who had double digit leads in the second hald of both games, but came home with no wins.

Bay's record dropped to 6-4.

Bay College hosts Alpena Community College this Wednesday night. Game time is 8:00 and it will be broadcast live on Maverick 106.3 and radioresultsnetwork.com.

Click the thumbnails in the ARTICLE HIGHLIGHTS box above to see photos, videos, and hear interviews with Tyler Willette and Coach Johnson.