Krutina Boys Lead Eskymos To Win Over Negaunee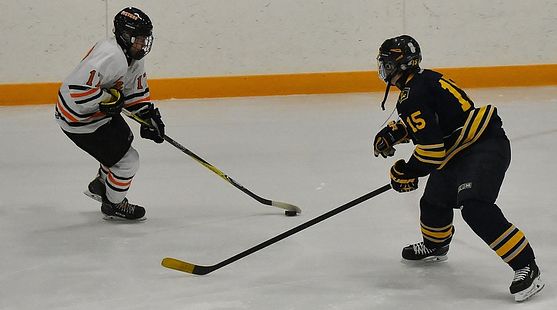 WELLS---Kyle Krutina scored two goals and his younger brother Karson also scored as the Escanaba Eskymos rallied to beat the Negaunee Miners, 6-5, Monday night, in Wells.

Nick Kolich, Devin Fisher, and Grant Wickham also scored for Escanaba.

The Eskymos won despite being called for two five-minute major penalties, and despite falling behind by two goals after the first period.


Noah Penrose scored just 2:15 into the game for Negaunee, and Ander Sorensen cashed in on the Miners' first five-minute power play at the 11:02 mark.

In the second period, Grant Wickham scored off of a Christer Carne face-off win to make it 2-1, then, on a power play, freshman Karson Krutina knocked home a rebound to tie the game.

Just 50 seconds later, his older brother Kyle Krutina scored on a breakaway.

The Miners were able to tie the game as the Eskymos gave up an odd-man rush and the trailer on the play, Chad Pohlman, scored, making it 3-3 after two periods.

The Eskymos grabbed the lead at the 2:58 mark of the third period as Fisher ripped his first goal in the #21 uniform, with Luke Labre getting the assist. Then 41 seconds later, Kolich scored his first varsity goal, with Karson Krutina drawing the assist.

Negaunee got yet another power play as Chris Sliva went in for tripping, and Sorenson scored his second goal of the game, unassisted, to make it a 5-4 game.


The parade to the penalty box continued for Escanaba as Ethan Silverstone went in for roughing, and then as that penalty was being killed off, freshman Ayden Mylander was given five minutes for boarding.

The Eskymos killed that off, and with the Negaunee goalie pulled for the extra attacker, Kyle Krutina scored his second goal.

That empty netter turned out to be the game-winner because Pohlman scored his second goal of the game as the final buzzer went off, with Sorensen assisting.

It was a rough night for Escanaba freshman goaltender Bryce Buchbinder, who gave up five goals on 13 shots. But it was enough for his first varsity victory between the pipes.

Negaunee goaltender Nolan Corwin stopped 23 of the 28 shots he faced.

Escanaba (2-1-0) travels to Sault Ste. Marie this weekend to face the Blue Devils. The game on Friday starts at 7:00 at the Big Bear Arena (LIVE on FM-105.5, AM-600, and rrnsports.com). Saturday's game is at 1:00 (AM-600, rrnsports.com)

Click the thumbnails in the ARTICLE HIGHLIGHTS box above to see photos and videos taken by Micky LaMarch. Also see video interviews with Karson Krutina, Nick Kolich and Devin Fisher. And listen to player spotlight interviews with Chris Sliva and Christer Carne.