OFFENSIVE OUTBURST: Norse Shoot Past Alpena

ESCANABA---The Bay College Norse men's basketball team had seven players reach double figures in a school record offensive outburst, 113-91, over Alpena Community College on Wednesday night in Escanaba.

British import Christian Alexander electrified the Northern Lights YMCA crowd with three slam dunks, including two in less than a minute early in the second half. He made all six of his field goal attempts and finished with 13 points.


Freshman Deandre Magsby of Milwaukee came off the bench as well, as he scored a career high 16 points on 6-of-10 shooting, including a fade-away jumper near the Norse bench as he was falling down. He added four rebounds and three assists.

Freshman Ryan Arndt from Bark River-Harris also came off the bench, scoring all 16 of his points in the second half, including four straight three-point baskets.

Sophomore Marcus McKenney of Menominee shook off his recent shooting woes by scoring 13 points, and he dished out five assists.

Sophomore Kobi Barnes of Milwaukee had a double-double: ten points and 11 rebounds, and he played just 19 minutes as the Norse substituted freely all night long.

Sophomore Alfonzo Fields, also of Milwaukee, had 12 points and six rebounds, making a pair of three-pointers. Freshman Ryan Robinette of Escanaba had ten points and five assists, and fellow Eskymo, freshman Tyler Willette added nine points.

And freshman Logan Hardwick of Rapid River added five points and seven boards.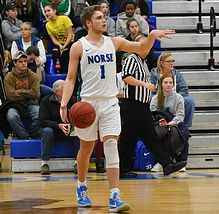 The Norse trailed in the first half, 30-20, as the Lumberjacks shot the lights out from behind the arc. But the Norse outscored Alpena, 31-12, in the last eight minutes of the first half to go into the locker room with a 51-42 lead.

Bay gradually pulled away in the second half, energized by Alexander's dunks and Arndt's triples.

Logan Guenther led Alpena (0-4) with 23 points and 15 rebounds. Tristan Smith added 13 points and six rebounds, and Can DeClaire chipped in 12 points.

The Norse (7-4) travel to Illinois on Friday to face Harper College in Palatine. The game starts at 6;00 ET and will be broadcast live on Maverick 106.3 FM.

Click the thumbnails in the ARTICLE HIGHLIGHTS box above to see photos and videos, and listen to comments from Arndt, Magsby, and Coach Matt Johnson. Also interview with Bay cross country runner James Young.