MILWAUKEE HOMECOMING: Norse Fall, 98-70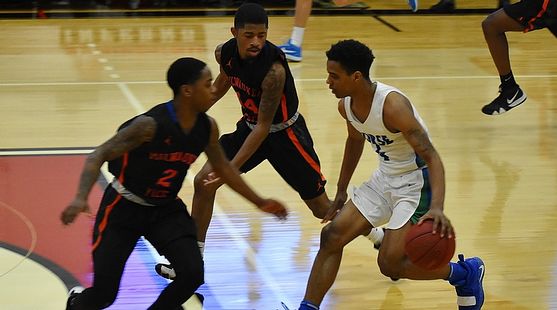 MILWAUKEE---Five Bay College Norse basketball players had a homecoming on Saturday, playing in their hometown of Milwaukee for the first time.

Bay battled hard for the first half, but were blitzed in the second half by the Milwaukee Tech Stormers, and the Norse came home with a 98-70 loss.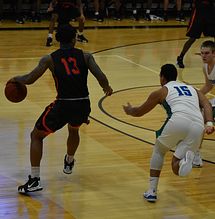 Sophomores Alfonzo Fields and Kobi Barnes, and freshmen Deandre Magsby and Reggie Dean both played on the Alverno College court for the first time in a Norse uniform, while sophomore Dontae Ellis is still recovering from an injury suffered nearly a year ago.

The gym was packed with MATC supporters, as well as family and friends of the five Norse players from Milwaukee.

It was rocking late in the first half when Justin Wofford slammed one home, and then Shannon Sanford followed with a dunk-and-one.

The Norse responded after a time out when Barnes drove the baseline and threw down perhaps his strongest slam dunk of his career, leading to an explosion of applause in the gym. Then Barnes and Fields combined at half court to get a steal, and the Norse converted at the other end of the court to tie the game at 32-32.

But the Stormers responded with a 14-7 spurt to end the first half, concluding with a buzzer-beating three-pointer from NBA distance after a Norse turnover.

The Norse scored the first basket of the second half to close to within 46-41, but that's as close as the score would get, as the Stormers dominated in every aspect of the game.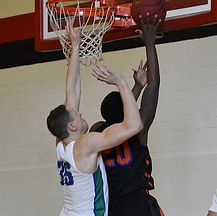 The Norse were forced into a total of 36 turnovers, and were ice cold from the field. At the same time, Milwaukee Tech had two more dunks, three triples, and 52 points in the half.

Barnes had a double-double, scoring 17 points and grabbing 12 rebounds while blocking three shots. Fields ended up with 12 points, eight rebounds, and four assists.

Sanford led Milwaukee Tech (9-2) with 28 points. Yuri Swinford would add 15 points and nine rebounds, while D'Angelo Young-Pryor wound up with 12 points and nine rebounds.

The Norse (8-5) will participate in the Gogebic Winter Classic next weekend before taking a break for the Holidays. On Friday they will meet Western Tech for the second time this season at 5 PM. On November 17 the Norse hosted Western Tech and won that matchup 71-63. On Saturday Bay College will meet up with Leach Lake Tribal College at 1 PM.

Both games will be broadcast on Maverick 106.3 FM.

Click the thumbnails in the ARTICLE HIGHLIGHTS box above to see photos and videos, listen to an interview with Kobi Barnes and Alfonzo Fields, and post-game comments from Coach Matt Johnson.