Norse Hold Off Leech Lake To Head Into Holidays

IRONWOOD---The Bay College men'is basketball team ended the first half of its season with a 10-5 record after a 89-81 win over Leech Lake (Minn,) Tribal College on Saturday at Gogebic Community College in Ironwood.

The Norse had four players score in double figures but had to fight hard to hold off the Laker team that kept coming back whenever the Norse made a run.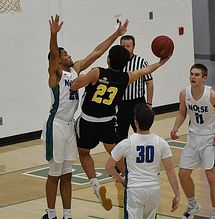 The game was tied, 39-39, at halftime, and it was still tied early in the second half when Escanaba graduate Ryan Robinette banked in a shot to make it 45-43.

The Lakers came back with a one-handed slam dunk by Allis Tahahwah on a breakaway after a Norse turnover.

Bay regained the lead on a basket from fellow Eskymo Tyler Willette, and then Kobi Barnes got a slam dunk on the next trip down the court.

The game continued to go back and forth, with Rapid River's Logan Hardwick making a nice spin move and basket to make it 55-51. Barnes scored again inside, and Willette had an "and one" to help the Norse build a ten-point lead in the final three minutes of the game.

Bay was able to hold the Lakers at arm's length in the final minutes by shooting 78.3 percent from the foul line (18-of-23).

Tahahwah tried to keep his team in it, with a pair of "and-one" baskets late, and he led all scorers with 33 points. But two of his teammates fouled out, and the Norse had far more depth on the bench, as eleven of the 12 Norse players scored.

The Norse got a combined 35 points from their two Eskymos: 20 from Robinette and 15 from Willette. Willette was perfect on the day: five-for-five from the field, and five-for-five from the free throw line.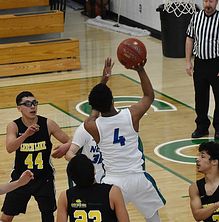 Alfonzo Fields had a double-double, making 11 points and grabbing 14 rebounds.

Two of his points, however, came on an unusual play, when Leech Lake's Eammon Tahahwah took an inbounds pass on the baseline and mistakenly scored a lay-up into his own basket. Fields was the closest Norse player to the action, so he was credited with the basket.

At the time, it was a 69-65 Norse lead, so it was a big basket, making it 71-65.

Reggie Dean added 11 points and Christian Alexander chipped in eight.

Bay College had a big advantage in offensive rebounds (23-5) and made 29 of their 39 free throws. The Lakers shot well from the field (32-for-68), with Allias Tahahwah taking 25 of those shots (making 13).

The Norse are home for the Quality Inn & Suites Classic on Dec. 29-30 in Escanaba. Bay will face Alpena Community College on the 29th, and Milwaukee Tech on the 30th.

The Norse games will be broadcast on Maverick 106.3 FM and on-line at www.radioresultsnetwork.com.

Click the thumbnails in the ARTICLE HIGHLIGHTS box above to see photos and videos, hear Luke Mattson's player spotlight interview, and listen to post-game comments from Robinette and Coach Matt Johnson.