4TH QUARTER SETBACK: Northern Women Fall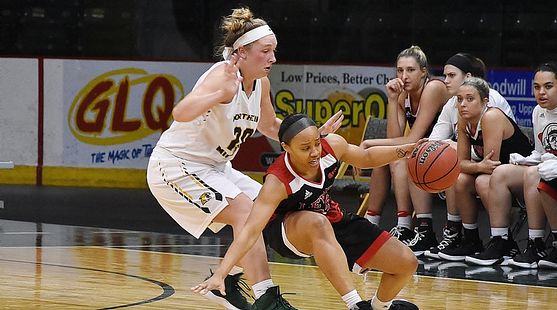 MARQUETTE---Northern Michigan University women's basketball Coach Troy Mattson had everything going the way he wanted early on during Monday's game against 20th-ranked Lewis (Ill.) University at the Berry Events Center.

Four different players scored in the first three minutes of the game and the Wildcat defense was strong as usual, particularly against the Flyers' top player, Jessica Kelliher. Northern led, 8-0, and event after the Flyers scored a couple of baskets against the second-team Wildcats when they came into the game, it was a 14-6 NMU lead.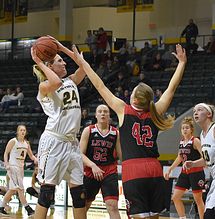 The Wildcats led for almost the entire game, even after the Flyers made a couple of runs to tie the game in both the third and fourth quarters.

But NMU let a nine-point lead slip away and was outscored, 16-3, in the final five minutes, and lost, 58-50.

"Missed free throws," Mattson said of his team's downfall, as NMU went 5-for-13 at the foul line. "We controlled the game the way we wanted to control it for about 30 to 32 minutes, and we just let them in the game by missing free throws."

"They've got an All-American (Kelliher)," Mattson added. "I told them (his players) that if it's close at the end, we were gonna have a tough time winning the game, because they're just gonna throw it to her every time."

They did. And Kelliher scored seven of her game-high 18 points in the fourth quarter, including back-to-back baskets to snap a 50-50 tie.

"She's a great passer and she's a great scorer," Mattson said. "That's exactly what happened."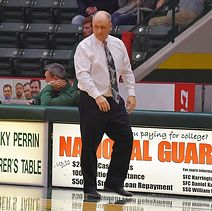 Northern did not have a player score in double figures. Baleigh Delorit hit three three-point baskets off of the bench to score nine points for the Wildcats. Erin Honkala and Jessica Schultz also had nine points apiece for Northern.

NMU, which beat Lewis in a meeting back in November, fell to 9-3 on the season.

The Flyers improved to 8-1, after also beating Michigan Tech on Saturday.

The Wildcats are now off until after the Christmas and New Year's holiday.

Click the thumbnails in the ARTICLE HIGHLIGHTS box above to see photos and videos taken by Nate Belleville, and heard Troy Mattson's comments.