Late Hockey Comeback Falls Short For Eskymos 4-3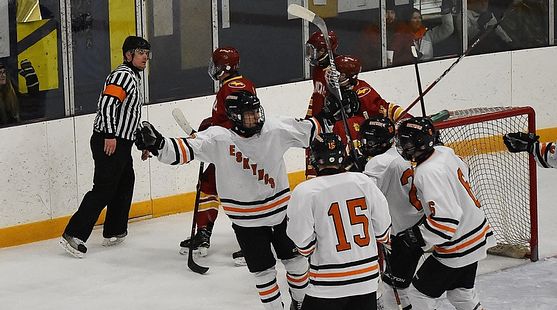 WELLS---The Escanaba Eskymos scored two goals in the final two minutes of the game, but the team's rally fell short in a 4-3 loss to the Hancock Bulldogs Tuesday in Wells.

The Eskymos fell behind as they had a near-constant parade to the penalty box, with the Bulldogs getting a pair of power play goals, including one during a five-minute penalty.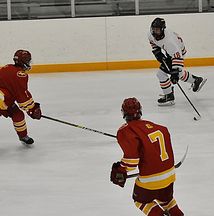 Colton Salani opened the scoring for Hancock on a power play ten minutes into the game, and late in the period, Trevor Tchida made it 2-0.

Austin Salani assisted on both of those goals.

Escanaba got some life in the second period when senior defenseman Chris Sliva followed his own shot with a rebound goal, cutting the gap to 2-1.

But with the Bulldogs enjoying a five-minute power play, Austin Salani scored halfway through the period.

In the third period, the Eskymos had several scoring chances, but could not take advantage. Then four minutes into the period, a bouncing puck came out to center ice, and onto Austin Salani's stick. He went in on a breakaway, deked Eskymo goaltender Trevor Denome, and tucked it into the five-hole for his second goal of the game. Austin Salani had a part in all four Hancock goals.

The Eskymos, however, did not give up. With the clock ticking down, Kyle Krutina scored from along the goal post with 1:52 to play, a goal that Hancock's players argued should have been waived off.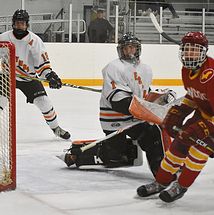 The Eskymos applied pressure after that goal, and were rewarded with just their second power play of the game.

When Escanaba pulled its goaltender for a 6-on-4 advantage, Grant Wickham scored off a beautiful feed from Nick Kolich, making it a 4-3 game.

But that goal came with just 12 seconds left in the game, and the Eskymos could not get the center ice face-off win they needed to get one last scoring opportunity.

Hancock (3-6-0) outshot Escanaba, 28-26.

The Eskymos (3-5-0) host Houghton this Friday night. The game will be broadcast on WGKL-FM (Kool 105.5) and WCHT-AM (NewsTalk 600), and rrnsports.com.

Click the thumbnails in the ARTICLE HIGHLIGHTS above to see photos taken by Micky LaMarch. Also click to listen to player spotlight interviews with Jake LaFave and Joey Jacobson, post-game comments from Coach Matt Hughes, and a radio replay of Wickkam's late goal.