Wolves Hold Off Maroons In Defensive Battle 51-46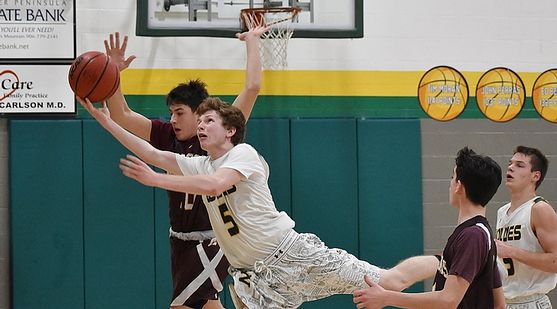 CARNEY---The Carney-Nadeau Wolves had a big third quarter from Max Baumler and then held on to beat the Menominee Maroons, 51-46, Thursday night at the Carney-Nadeau Holiday Tournament. The Wolves stayed undefeated on the season.

Points were hard to come by in the first half, with the teams going to the locker room tied at 18-18. Then Baumler made three straight triples to get the third quarter under way, and Beau Koffman had a steal and a lay-up to give the Wolves a 34-24 lead.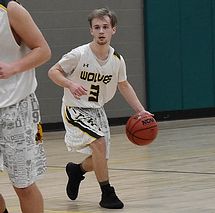 Menominee battled back to within four points late in the game, but could get no closer as Brett LaFord nailed a triple and Koffman scored on another lay-up.

Baumler led all scorers with 23 points, while Kaufman chipped in 13 points.

Menominee got 12 points from Keegan Monroe.

In the junior varsity game, Menominee defeated Carney-Nadeau, 57-31. The JV Maroons got 17 points from Brady Schultz and 16 from Zach Starzynski. The JV Wolves were led by Jerry LaFord's 17 points.

Carney-Nadeau will face Milwaukee Young Coggs Prep in the varsity championship game on Friday. Game time is 7:00 CT/8:00 ET. The Wolves junior varisty team faces Milwaukee Young Coggs in the consolation game at 2:00 CT/3:00 ET.

Click the thumbnails in the ARTICLE HIGHLIGHTS box above to see photos and video highlights.