Eskymo Comeback Falls Short Against Young Coggs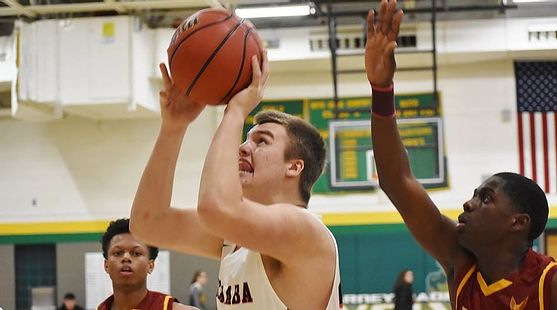 CARNEY---The Escanaba High School basketball team rallied from 16 points down late in the fourth quarter, but lost to the Milwaukee Young Coggs Eagles, 86-82, Thursday night, at the Carney-Nadeau Holiday Tournament.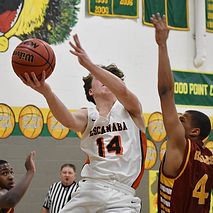 The Eskymos trailed, 74-58, before switching from their 1-3-1 zone defense, and going into a half court trap. It worked, as the Eagles committed several turnovers down the stretch, with Craig Kamin getting two steals for layups and Tyler McDonald getting one.

Another steal in the closing seconds and a heads-up pass from Kamin to Ben Willis pulled the Eskymos to within 85-82 with seven seconds left.

And the Eagles turned the ball over on the inbounds play against Escanaba's full-court press defense.

Kamin inbounded the ball under the basket and passed to an open Peyton Fedell in the corner, but his game-tying three-pointer was an airball. The Milwaukee school then put the game away with a free throw as the Eskymos had to foul to stop a lay-up.

Coggs Young put the Eskymos into an 18-4 hole early on, and the Eskymos nearly dug out of it, closing to within 38-36 late in the second quarter. But the Eagles, led by two outstanding players who combined for 58 points, pulled away for a second time.


Jalen Tolliver torched the Eskymos for a game-high 32 points, making a dozen shots from the floor. Fredrick Couch was just as potent, scoring 26 points, including five triples.

Escanaba was led by Austin Willette's 23 points, eight of which came in the second quarter as the Eskymos were trying to stay in the game. Fellow big man Jared Nash added 19 points, while Kamin and Carter Hudson each contributed 14 points.

The Milwaukee school made eleven three-pointers while Escanaba had just one.

In the JV game, Escanaba defeated Milwaukee Young Coggs, 85-44, as Bryant Maki scored 18 points and Brandon Frazer added 17. The junior Eagles were led by Demetrious Hatten with 14 points.

The Eskymo varsity team will face Menominee in the third place game on Friday. Game time is 6:15 ET/5:15 CT. The Escanaba JV's will also play Menominee, in the championship game, starting at 4:30 ET/3:30 CT.

Click the thumbnails in the ARTICLE HIGHLIGHTS box above to see photos and videos from Thursday night's varsity game.