BATTLE TO THE END: Carney Falls In Title Game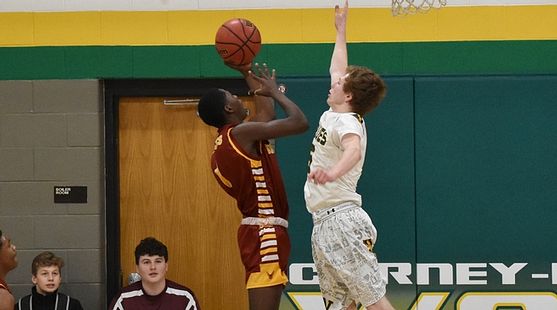 CARNEY---The Carney-Nadeau Wolves fell behind by 23 points and kept coming bacj before losing to a talented Milwaukee Young Coggs Prep team, 82-74, Friday night, in the championship game of the Carney Holiday Tournament.

The Wolves trailed, 46-23, in the second quarter, but closed to within seven on three different occassions in the third and fourth quarters before the Eagles put it away with an 8-0 run in the final minutes to rebuild a 15-point lead. Even after that run, the Wolves, with two players on the bench fouled out, closed the game strong.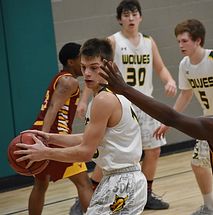 "There was a point in that game where I thought I was gonna have to give a speech after getting beat by 40 right there," Wolves Coach Jake Polfus said. "You never want to do that. But those kids just worked so hard for 32 minutes. They could have gave up, but they never did."

"We were down by like 25 at one point, but we didn't stop fighting," Wolves junior Brett LaFord said. "We kept our hearts in it. We knew we could come back. My legs are pretty dead. I've never played against anyone this fast. Ever."

LaFord led Carney with 28 points, although the Eagles shut him down in the fourth quarter.

That allowed Beau Koffman to knock down a few triples, as he finished with 18 points. Max Baumler also got hot from downtown and ended up with 22 points.

Carney-Nadeau made twelve triples in the game, but made just 5 of 16 free throw attempts. The Wolves lost for the first time this season after starting 5-0.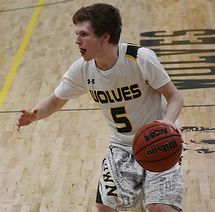 The Eagles improved to 9-2 on the season.

They were led by James Nelson's 20 points. Fredrick Couch added 16 and Terrence Members chipped in 15 points.

In the junior varsity contest, Young Coggs posted a 73-40 win over the Carney-Nadeau Wolves in the tournament's third place game.

The Eagles were led by Antonio Retic with 20 points, and Daniel Hall added 18 points. Carney's JV's got 15 points from Jerry LaFord and Juan Maier added 14 points.

Click the thumbnails in the ARTICLE HIGHLIGHTS box above to see photos and videos, and listen to post-game comments from Brett LaFord and Wolves Coach Jake Polfus.