Norse Women Pull Away For Sixth Straight Victory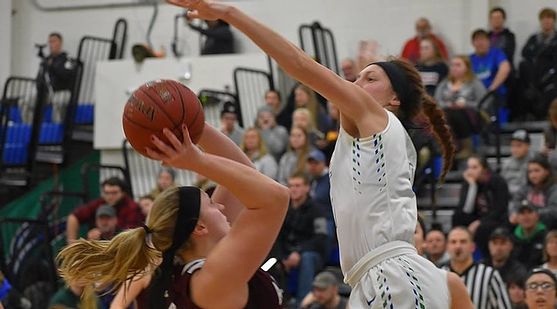 ESCANABA---The Bay College women's basketball team shook off a sluggish first quarter and rolled to a 76-49 win over the Alpena Community College Lumberjills Saturday night in Escanaba.

It was Bay College's sixth straight win, with two of them coming over Alpena.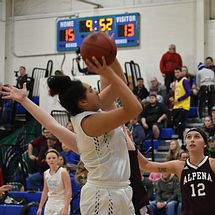 The Norse led, 15-13, after the first quarter, before catching fire for 25 points in the second quarter to take command of the game.

And it was Keshia Davis, who's known mostly for her tough plays in the paint, who got things going for the Norse from downtown. Davis took a pass from JuliAnn Wickman at the top of the key and swished a three-point basket to give Bay a 25-20 lead.

Then Kelsea Ackerman got a steal at half court and fed it to Jordan Kraemer for a basket, and the momentum switched in Bay's direction.

The Norse led at the half, 40-25, then put the game away when Haley Trudell nailed back-to-back three-pointers to start the third quarter.

Kraemer led all scorers with 21 points, and she grabbed nine rebounds. She made all seven of her free throw attempts, and did her work in just 23 minutes of play.

Freshman Kaitlyn Hardwick had her best game in a Norse uniform with ten points and eight rebounds. She made all three of her field goal attempts and all four free throws.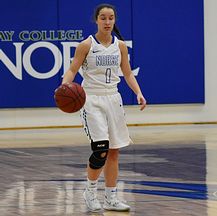 In all, eleven different Norse players scored. Bay outrebounded Alpena, 47-36.

Taylor Liviningston led Alpena (0-7) with 14 points. Shelby Seaver scored ten.

Bay College (10-5) will take on Milwaukee Tech at 2:00 Sunday afternoon. The game will be broadcast on Maverick 106.3 and at www.radioresultsnetwork.com.

Alpena will face Gogebic Community College at 10:00 Sunday morning.


Click the thumbnails in the ARTICLE HIGHLIGHTS box above to see photos and videos taken by Nate Belleville. Also listen to interviews with Jordan Belleville, Kaitlyn Hardwick, and Coach Rob Robinson.