OVERMATCHED: Stormers Blow Past Bay Again

ESCANABA---The Milwaukee Area Technical College Stormers jumped all over the Bay College Norse on Sunday, taking a 29-3 lead in the first five minutes and cruising to a 108-74 win at the Bay College YMCA Gym.

Norse Coach Matt Johnson put it bluntly moments after the game ended.


"They just came into our gym and embarrassed us," Johnson said.

The last time the teams played, two weeks ago in Milwaukee, the Stormers also won by a wide margin, 98-70. But in that game, the Norse competed much better, trailing by just five points one minute into the second half.

Not this time.

All 13 Stormer players scored, and the speed of the visiting team, along with its athleticism, was evident from start to finish. There were several dunks, eleven three-pointers, and 49 rebounds. Milwaukee Tech made 43-of-85 shots from the field. Simply put: dominating.

The three Milwaukee men on the Bay College roster carried much of the load, combining to score 55 of the Norse 74 points. Kobi Barnes scored 22 points and grabbed seven rebounds, Reggie Dean made five triples and scored 19 points, and Alfonzo Fields scored 14 points and grabbed six boards. Beyond those three, there wasn't much else.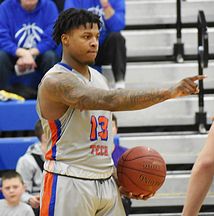 Shannon Sanford led the Stormers with 15 points, while D'Angelo Young-Pryor added 14 and Nakill Martin chipped in 13.

The only negative, perhaps, for the Stormers is they were in severe foul trouble for most of the night, limiting some players' minutes.

The stormers improved to 13-2 on the season. Bay College fell to 11-6.

The Norse travel to Canada on Thursday for a scrimmage, then get back on the court Saturday afternoon against Silver Lake College.

Game time is 3:00. It will be broadcast live on Maverick 106.3 and on-line at www.radioresultsnetwork.com.

Click the thumbnails in the ARTICLE HIGHLIGHTS box above to see photos and videos, and to hear Alfonzo Fields' player spotlight interview.