DEFENSIVE BATTLE: Carney Outlasts Bark River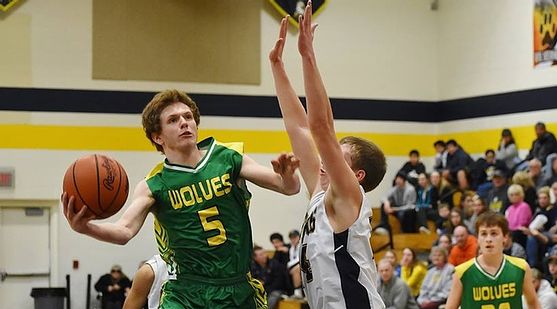 HARRIS---The Carney-Nadeau Wolves built a 15-point lead then held on to post a 46-44 boys basketball win over the Bark River-Harris Broncos Thursday night in Harris.

Points were hard to come by in the first quarter, with Carney holding a 10-4 lead after the first eight minutes. That lead grew to 23-14 at halftime, and the Wolves scored the first five points of the third quarter to take a 28-14 lead.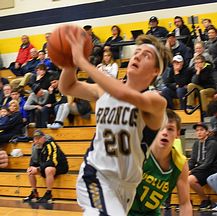 The Broncos cut that lead to 39-29 after three quarters, and then kept coming back in the fourth quarter, with senior Hunter Debelak scoring ten of his team-high 17 points in the final seven minutes.

Debelak had an old-fashioned three-point play down the stretch, an offensive rebound and basket to cut the Carney lead to 46-41, then after a missed free throw, he drained a three-pointer from the top of the key with four seconds left.

The Broncos, though, had used all of their time outs, so Carney's Beau Koffman smartly kept the ball on the baseline and did not inbound it.

The clock went to all zeros, and the Wolves breathed a sigh of relief.

The Wolves had to fight through severe foul trouble to earn the important road victory, after Mike Flanagan and Max Baumler both fouled out, and Brett LaFord was saddled with four fouls and sat long stretches of the game. But the Wolves survived again.

Baumler, before he fouled out, led his team with 19 points, including five three-point baskets. Koffman added 15 points, with three triples. LaFord scored just six points.

For BR-H, besides Debelak's 17, Willie Schmitt scored in double figures with ten.

Click the thumbnails in the ARTICLE HIGHLIGHTS box above to see photos and video highlights from Thursday night's game.