HOME COOKING: Eskymos Dominate Tawas, 16-0

WELLS---The Escanaba Eskymos overwhelmed the first-year Tawas Braves, 16-0, in high school hockey action Friday night in Wells. The Eskymos scored eight goals in each of the two periods, outshooting the downstate team, 33-4.

Grant Wickham led the way with three goals and three assists, while defenseman Luke Labre had a goal and five assists to also finish with six points.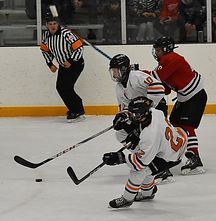 Nick Kolich, Kadon Hayes, Devin Fisher, and Jake LaFave all had two goals apiece.

"We tried to work the puck around make a good play out of it toward the end of the game," Labre said. "We didn't shoot as much to give them a little biot of a break."

"We came into this game thinking, like, play every game like you're playing against Marquette," LaFave said. "Come in hard, start on time, move the puck, play your best hockey."

For Hayes, one of six sibblings, it was his first two goals as a varsity hockey player.

"I got a pass from Luke Labre, and I just ripped it on net and it went off the goalie's stick and in," Hayes said. "For the second one, I just walked it in and gave 'er a wrist shot."

Other Eskymo goal scorers imcluded Grant LaMarche, Joey Jacobsen, and Kyle Krutina. Goaltender Bryce Buchbinder had an easy night, stopping all four shots he faced.

Tawas, in its first season of varsity high school hockey, fell to 2-10. Escanaba improved to 5-6 on the season. The two teams play again Saturday at 1:00.

Click the thumbnails in the ARTICLE HIGHLIGHTS box above to see photos and videos taken by Micky LaMarch, and listen to plaer spotlight interviews with Nick Kolich and Bryce Cooper. Also see post-game video interviews with the three stars: Labre, LaFave, and Hayes.