Bay College Grinds Out Win Over Silver Lake 98-93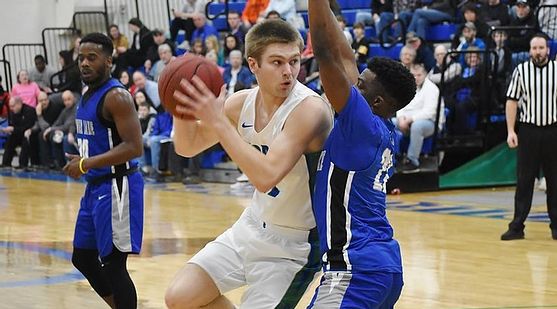 ESCANABA---The Bay College men's basketball team outscored Silver Lake, 17-12, in the final four minutes and posted a 98-93 win over the Lakers on Saturday in Escanaba.

Alfonzo Fields scored 25 points and Ryan Robinette added 24 for the Norse.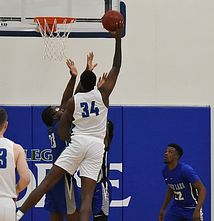 It was a tight game from start to finish, with neither team having a lead greater than six points.

Kobi Barnes scored eight points early on for the Norse before the undersized Lakers made a concerted effort to deny the inside play of Barnes and Christian Alexander.

The Bay guards stepped up, with Robinette nailing three triples and 15 total points in the first half. Fellow sophomore Alfonzo Fields was also on, scoring nine first half points. Still, Silver Lake led, 45-42, at halftime, after Corey Lloyd beat the first half buzzer with a triple just seconds after Robinette had tied the game with a three-pointer.

The game was tied at 81-81 when the Norse stepped up the defense, forcing two turnovers and scoring six straight points to go up 87-81.

That was just enough separation for Bay to get the win over the Manitowoc-based four-year school, but not before the Lakers literally banked in three triples off the glass to prolong the game by a few possessions.

The Norse, in the end, won the game with solid guard play, and spot-on free-trhrow shooting. Marcus McKenney made all nine of his free throws, while Fields was 7-for-7 and Robinette made five of six. The Norse, as a team, were 27-for-35.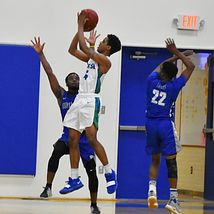 The Lakers (3-13) had three players score 20 points each: Michael Cantre (who fouled out and played just 18 minutes), Thomas Bullock, and Ryan Dean, Jr.

Bay College (12-6) had 25 from Fields (on 8-of-12 shooting from the field), and 24 from Robinette. McKenney added 13 points and Tyler Willette chipped in eleven points and six rebounds. Barnes had seven rebounds to go with his eight points.

The Norse have an important regional game Wednesday night in Minnesota against Dakota County Technical College.

The game starts at 8:00 ET and will be broadcast on Eagle 107.3 FM, and on-line at www.radioresultsnetwork.com.

Click the thumbnails in the ARTICLE HIGHLIGHTS box above to see photos and videos taken by Nate Belleville. Also listen to comments from Fields, Robinette, and Coach Matt Johnson. And a player spotlight interview with Marcus McKenney when he talks about his connection to LeBron James.