SIGNATURE VICTORY: Norse Upset No. 16 Knights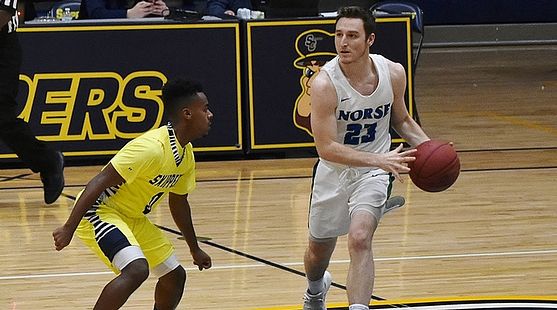 ROSEMOUNT, Minn.---The Bay College Norse built a 26-point lead and held on for dear life at the end to upset Dakota County Technical College, 83-79, Wednesday night in Minnesota. The win over the 16th-ranked Blue Knights gives the Norse a leg up when it comes to the seeding for next month's NJCAA Region 13 Tournament.

The Norse, playing without leading scorer Ryan Robinette due to injury, stunned the Blue Knights with a big run to end the first half, taking a 39-23 lead into the locker room. In that first half, Dakota County threw up 19 three-point baskets and made only one.

In the second half, the Norse came out strong, outscoring the Knights 13-3 to build a seemingly safe 52-26 lead. But the Blue Knights came roaring back in a game that was competed at a break-neck pass, and the Norse had trouble with the press.

Bay's 6-10 center, Kobi Barnes, fouled out late in the game, and the Blue Knights cut the Norse lead down to two points in the final minute. But Bark River-Harris graduate Ryan Arndt came up with a big steal and basket to make it a two-possession game again.

Escanaba graduate Tyler Willette made a couple of big free throws, and Menominee's Marcus McKenney made three of his four free throws in the final seconds to seal the big upset victory. Rapid River graduate Logan Hardwick also had a big basket down the stretch, and Munising graduate Cade Contreras sank two free throws off the bench.

McKenney led the Norse with 21 points, including three triples and six-of-eight shots at the foul line. He also dished out eight assists. Alfonzo Fields had 18 points and seven boards, while Barnes, before he fouled out, added 14 points and eleven rebounds.

Willette added 13 points and Arndt scored 12 as the Norse had five players score in double figures. As a team, Bay made 20-of-31 free throws and outrebounded DCTC, 55-43. The Norse were 7-for-15 in three-point basket attempts.

Dakota County (13-4) was led by Dashawn Walker's 23 points while Cody Stichka added 17 points. Jerimiah Coddon had 12 points and ten rebounds, and Amitri Collins-Westlund scored 15 points. The Blue Knights made 6-of-34 three-point shots.

Bay College (13-6) returns to action next Wednesday night with another key regional game, on the road at Gogebic Community College. The game starts at 8:00 ET and will be broadcast live on Maverick 106.3 FM and at www.radioresultsnetwork.com.