ALASKA SWEEP: Wildcats Rally Past Seawolves 4-1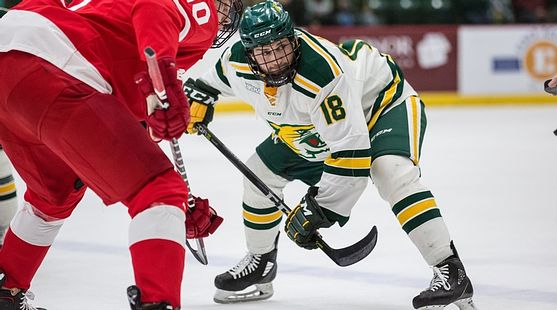 ANCHORAGE, Alaska---The Northern Michigan University hockey team saved the best for last late Saturday night, scoring four goals in the third period to beat Alaska-Anchorage, 4-1, at Sullivan Arena. The Wildcats spent the past 14 days in the Great North, and came home with four important WCHA wins.

On Saturday, the Wildcats trailed, 1-0, midway through the third period before they scored three times in a span of 1:17. Jarrett Lee scored his first goal to tie it with 7:10 to play, then 46 seconds later, Joseph Nardi scored the go-ahead goal...his third of the weekend.

Then 31 seconds after Nardi's goal, Adam Rockwood scored to make it 3-1. Troy Loggins added an empty-netter in the final minute to make it a 4-1 final.

Northern outshot Anchorage, 31-18, to win for the fourth time on the trip, after also winning twice last weekend in Fairbanks against the Alaska Nanooks.

On Friday, Nardi scored twice for the Wildcats, who moved into second place in the WCHA standings. Denver Pierce and Rockwood also scored for NMU, and Garrett Klee got his first goal in a Wildcat uniform in Friday's victory.

Pierce also had two assists in Saurday's win.

NMU is now 12-4 in WCHA play (13-10 overall) and will take next weekend off.