Gladstone's Bruce To Run For Wisconsin-Superior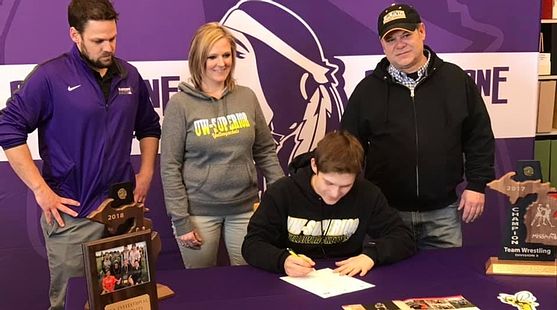 GLADSTONE---Gladstone High School senior Adam Bruce on Friday signed his National Letter of Intent to run cross country and track at the University of Wisconsin-Superior.

He was the Division One Upper Peninsula champion last fall and was a four-time U.P. champion in wrestling.

Bruce will have surgery on his hip next Monday, meaning his high school wrestling and track career is over. He finished 27-0 in wrestling this season, with the U.P. championship at 135 pounds being his last match in a Braves uniform.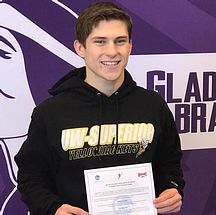 "It's a tough decision," Bruce said. "Wrestling has been a big part of my life since I wass younger. But starting with track in my freshman year, I just fell in love with it. I have to have this surgery now to be ready for the fall. My goal is to compete at nationals in my freshman year (at UW-Superior). We want to knock on the door of the NCAA's."

The affable and well-spoken Bruce thanked his coaches, family members, and teammates for pushing him and supporting him throughout his youth sports career.

"They are the reason that I'm here today," Bruce said.

Bruce will join his older brother, James, at UW-Superior. James Bruce, also a Gladstone graduate, plays soccer for the Yellowjackets. A third Gladstone graduate, Elliot Danhoff, is a pitcher on the UW-Superior varsity baseball team.

"Superior has a real good track and cross country program, and I'm excited to get into some indoor track this coming season,' Bruce said. "It's going to be awesome to walk in the same halls as my brother and kind of keep the tradition going because this will be his last year."

Bruce says that he's a bit nervous and scared about the upcoming surgery.

"Those fears will go away," he said. "Missing the upcoming (high school) track season will be the hardest thing. But it's the best thing for me. I need to rehab strong and get going."

Bruce says that while he may not compete for the Braves anymore, he's going to be there to cheer on his teammates, and wants to represent Gladstone and the U.P. when he gets to the UW-Superior campus this fall.