HISTORY MADE: Kraemer, Bay Ladies Rip Gogebic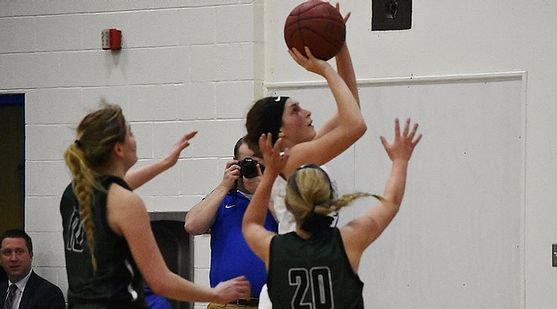 ESCANABA---The Bay College women's basketball team clinched a home playoff game and Jordan Kraemer crossed the 1,000 point mark for her career as the Norse ripped the Gogebic Community College Samsons, 89-54, Wednesday in Escanaba.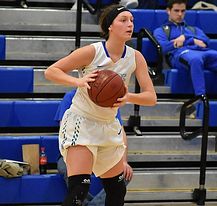 Kraemer came into the game needing 26 points to reach the milestone, and in the fourth quarter, she hit the 1,000 point mark with a three-point basket from the top of the key.

It was the only triple for the Norway High School graduate, and it came after Coach Rob Robinson called a time out to set up that play.

More importantly for the Norse, they swept the season series from the Samsons, meaning that Bay will host Gogebic in the NJCAA Regional semifinals on Feb. 27.


Before the game, the Norse honored all three sophomores who helped to start the program last year: Kraemer, Jordan Belleville, and Paige Welch. The team also praised Saige Rogers, who played last season and came back this year as a student manager.

A fifth member of last year's team, Caitlin Hewitt, is back as an assistant coach.

The Norse got off to a sluggish start, leading just 14-12 after the first quarter. But they dominated the second quarter with a tenacious defense that limited the Samsons to just one basket for nine of the ten minutes. Bay led, 37-18, at halftime.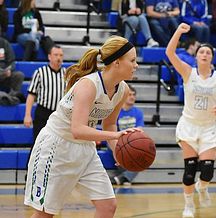 The Norse put the game away by scoring a whopping 30 points in the third quarter, and then the only question in the fourth quarter was whether Kraemer would get her milestone. And she did, with three minutes left, and was given a standing ovation.

Belleville had 11 points. Keshia Davis and Brooke Dalgord both scored eight points, with Davis leading the way with nine rebounds. Kraemer also had eight rebounds.

It was a frustrating night for Gogebic's star player, Bailey Froberg, who entered the game averaging 23 points per contest. She missed all ten of her shots in the first half as the Norse blanketed her. Froberg eventually scored five points on free throws in the third quarter and made three baskets in the fourth quarter to finish with 13 points.

Maddy Cronkwright led Gogebic (14-15) with 14 points.

Bay College improved to 20-6 on the season, with 17 wins in their last 18 games. The Lady Norse wrap up the regular season on Monday with a make-up game at Finlandia University. The game starts at 5:30 and will be broadcast on Maverick 106.3 FM.

Click the thumbnails in the ARTICLE HIGHLIGHTS box above to see photos and video highlights. Also listen to the halftime interview with the three sophomores, and post-game comments from Kraemer and Robinson.