Four Games Highlight Gold Medal Classic Schedule

HERMANSVILLE---There were four games played Friday in Hermansville as the Gold Medal Classic basketball tournament continued.

In the Class D championship game, Dave's Auto of Iron Mountain knocked off Carney Juice Promotions, 76-72. Kyle Johnson led Dave's Auto with 24 points. Tom Granquist led Juice Promotions with 17. Logan Hardwick was named the tournament MVP.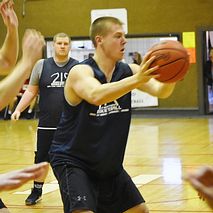 Earlier, two games were played in Class EE. In the first game, the North Central Jets Seniors and Alumni knocked off Norton's of Norway, 67-45.

In the second game, the "Class D Rejects" of Carney beat Hermansville Dry Kiln, 74-54.

That game featured a roster filled with college (or soon-to-be college) players for the Class D Rejects. Gladstone senior and Northern Michigan University recruit Reece Castor had 12 points.

Carney-Nadeau grdauate and University of Wisconsin-Marinette player Preston Lauscher had 14 points. And Rapid River grauate and Bay College player Logan Hardwick led the way with 16 points.

North Central High School graduate Josh Granquist led Dry Kiln with 20 points, knocking down six triples.

In a high-scorning Class E game, the Dickinson County Independents topped Jay's Auto of Hermansville, 97-80. Ross Cassanova of Norway led the way with 34 points, and Iron Mountain's Taylor Huotari added 20. Bark River-Harris graduate and Bay College guard Ryan Arndt (who also played in the Class EE game) led Jay's Auto with 21 points.

The tournament continues will a full slate of games on Saturday.

Click the thumbnails in the ARTICLE HIGHLIGHTS box above to see photos and videos from the Class D Rejects-Dry Kiln game. Also click to hear comments from Tournament Director Bob Maule.



Schedule for Saturday & Sunday.

*NOTE* The Woman's Division and Class A Men's Brackets are BOTH Double Elimination. All times are CENTRAL.

Saturday:

10am - Woman's Division Wangerin Logging of Stephenson vs. Anderson Logging of Felch

11am - Woman's Division McNeil Oilers of Crystal Falls vs. Juiced Apparel of Carney

Noon - Woman's Division Lakeland of Sheboygan/Milwaukee, WI vs. Winner of 10am Saturday

1pm - Woman's Division Rusty Huskies from Madison, WI vs. Winner of 11am Saturday

2pm - Class A Dexters of Menominee vs. Juiced Apparel of Carney

3pm - Woman's Division Losers Bracket Game

4pm - Jim's Plumbing of Wallace vs. McNeil Oilers of Crystal Falls


5pm - Class E Juice Promotions of Carney vs. Solberg's of Felch


6pm - Class A Loser of 2pm Saturday 4/13 vs. Loser of 4pm Saturday 4/13


7pm - Class EE Semi Final


8pm - Class E Semi Final

Sunday Schedule:

10am - Woman's Division Losers Bracket Game

11am - Class A Winner of 2pm Saturday vs. Winner of 4pm Saturday

Noon - Woman's Division Losers Bracket Game

1pm - Class A Losers Bracket Game

2pm - Class A Winners Bracket Game

3pm - Woman's Division Losers Bracket Game

4pm - CLASS A CHAMPIONSHIP GAME

5PM - WOMAN'S DIVISION CHAMPIONSHIP GAME

6PM - CLASS EE CHAMPIONSHIP GAME

7PM - CLASS E Championship game