Gladstone Braves Finally Taste A Football Victory!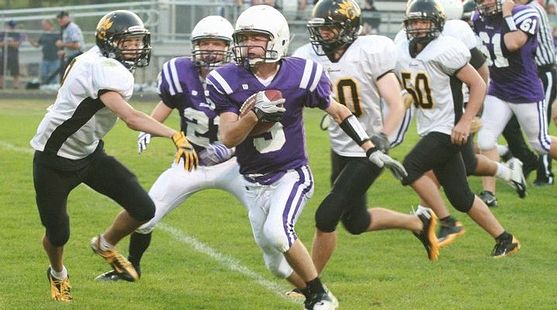 GLADSTONE----The Gladstone Braves are 1-0. They are NOT 1-9.

That's the message from Braves football coach Josh Mileski as he tries to point out that the 2012 team has nothing to do with the 2011 squad that went 0-9 a year ago. There was no inspirational post-game speech, no Gatorade bath on the sidelines Friday night after the Braves beat the Gwinn Model Towners, 49-12, at the Marble Athletic Field.

Justin Pederson and Riley Ballard each scored two touchdowns, and the Braves scored touchdowns in several different ways: on the ground, through the air, on a fumble return, and on a kickoff return. All in all, a good way to open a football season.


Jared Vuksan has a blade of grass on his head after a tough game Friday night.

"They did a lot of stuff, both offensively and defensively, that we were not prepared for," Mileski said. "They never showed any of that on the film that we had. We weren't ready for their option. But our kids responded tremendously to doing things on the fly."

"It's a good start," Braves senior Blake Ballard said. "I was just hoping that we would break that losing streak, and it was awesome."

Riley Ballard scored on a 61-yard sprint on the last play of the first quarter to break a scoreless tie, then he scored on a 21-yard run in the second half.

Braves quarterback Sam Pouliot hooked up with Justin Pederson for a 28-yard TD pass with 2:42 left in the second quarter, which gave the Braves a 14-0 halftime lead (after Justin Jurek's two-point conversion).

Jurek got the second half off on a good note with a 54-yard kickoff return. That set up Riley Ballard's second touchdown run, and after Jared Vuksan's kick, it was 21-0.



But the Braves forced five turnovers...three in the first half and two in the second half.

A fumbled snap on a punt attempt in the third quarter set the Braves up in Gwinn territory, and that led to a one-yard touchdown run by Vuksan with 4:51 left in the quarter. Vuksan was the Braves' top running back last season, but this year, he is playing at the tackle position and runs only in short-yardage situations.


Justin Jurek (11) races up the sidelines.

"My sophomore year, I started out being a tackle and last year I played some tackle," Vuksan said. "It's a lot easier for me now that I know what I'm doing. And with Steve Strom next to me (on the line), he's been a big help."

And how about being Gladstone's goal-line running specialist?

"I like it," Vuksan said. "Those are some fun plays to run."

Gwinn got on the board late in the third quarter on a four-yard touchdown run by Luke Sinnaeve, set up by a 39-yard run by Justin Nyquist.

It was one of several times in the game that the Model Towners were able to get wide on the Braves defense, and Mileski admits that there was a lot that the Model Towners did that was surprising. On the ensuing kickoff, though, Pederson got loose for an 85-yard return for a touchdown. Gladstone's lead was 35-6.

And then, came the Play of the Game.



The ball popped free, and lineman Chris Richer picked it up and raced to the end zone for a 44-yard touchdown.

"That was a fun play," Mileski said. "It was beautiful. Blake made a tremendous hit on him. And Richer is one of these juniors who have been working his butt off. That was a cool play. It would have been a shame if he would have been caught at the one."


Justin Pederson (21) hems in Gwinn's Owen Devooght (33) during Friday's game.

"Coach tells us to hit as hard as we can," Blake Ballard said. "I just ran up there and got him at the right time, I guess. It feels great."

"And I didn't even know that he (DeVooght) fumbled it until I seen everyone running up the sideline. It was awesome!"

Gwinn's Cody Norman scored on a 14-yard run against Gladstone's second defense with 12 seconds left to make it 42-12, but on the ensuing kickoff, Jurek got the ball and went off to the races again.

This time, he made it all 66 yards and scored the touchdown.

Gwinn, which played just four games last year before cancelling its season due to low numbers of kids, is in for the long haul this season with 23 kids.

The Model Towners outgained the Braves, 305 yards to 207. But Gladstone's Special Teams and defensive touchdowns added to the scoreboard without adding any yardage.



Riley Ballard had 109 yards on six carries, with two touchdowns and one fumble. Pouliot completed five of seven passes for 83 yards and a touchdown. Vuksan made five PAT kicks, although one was blocked after a bobbled snap on the first touchdown.

This win was the first for the Braves football program since October 23, 2010.


Steve Strom Interview

The Braves will play another non-conference game next Friday night, with the short trip to Harris to face the Bark River-Harris Broncos.

BR-H lost its opener to Crystal Falls Forest Park, 46-6, Friday night, in Iron County.

Game time next Friday is 7:00. The broadcast starts at 6:45 on WGKL-FM (105.5), WCHT-AM (600), and on-line at www.rrnsports.com.

Click the thumbnails in the ARTICLE HIGHLIGHTS box to see more videos from the game, and listen to audio highlights and interviews. Thanks to Mike Dagenais for taking the videos and for sponsoring the broadcast! And thanks to Ron Jurek for taking the majority of the photos you see here!


The Gladstone High School marching band kept us entertained all night long on Friday.