STAYING HOT: Braves Softball Rolls Past Rockets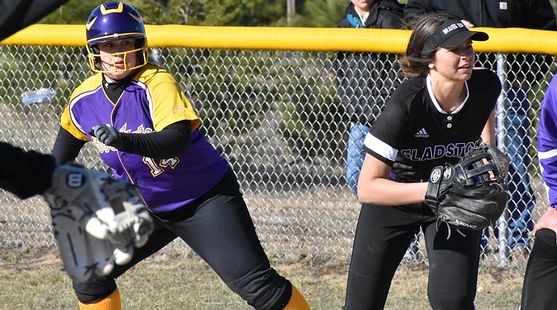 RAPID RIVER---The Gladstone High School softball team kept rolling along on Tuesday, taking a doubleheader from the mistake-prone Rapid River Rockets, 8-2 and 5-2, in Rapid River. The Braves improved to 19-1 on the season, with its only setback being a 1-0 loss to downstate Unionville-Sebawing back in April.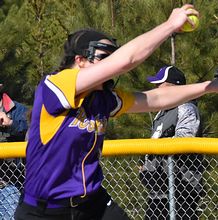 In the opener, the Braves scored two runs in the first inning against Rapid River starting pitcher Natalie Belanger as Sydney Herioux smacked a two-run double to bring home Taylor Trudeau and Jenna Tardiff.

But the Rockets tied the game in the bottom of the inning on hits by CC Pilon and Kristen Goodacre, a groundout, and an error.

The Braves regained the lead in the top of the second inning on a solo home run by Morgan Letteriello, then they scored four more runs in the fourth inning to take command.

An error gave the Braves a baserunner, then Trudeau singled home the first run of the inning. Herioux followed with a two-run triple to make it 6-2, then Taelor Zeise singled home Herioux.

The final run came in the sixth inning on an infield hit by Tardiff.
Gladstone had 14 hits in the game, with Trudeau, Herioux, and Natalie Hansen all collecting three hits.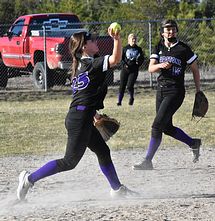 Andie Balenger pitched all seven innings for the win. She gave up two runs (one earned) on four hits, striking out eight, and walking none.

Belanger threw all seven innings for Rapid River, allowing eight runs (three earned) on 14 hits. She fanned seven and walked one.

In the nightcap, Letteriello doubled and scored on a fly ball by Hansen in the first inning.

It stayed 1-0 until the fourth inning when Herioux walked and scored on a double down the left field line by Zeise. She scored on a groundout by Letterillo to make it 3-0.

The Braves got the bats going in the fifth inning when TTrudeau tripled and scored on a double by Tardiff. Then Herioux doubled Tardiff home, making it a 5-0 game.

Rapid River scored in the bottom of the sixth when Goodacre doubled and scored on a groundout by Belanger. Then in the seventh, two errors and a groundout brought home the second run, but with two on, Letteriello fanned Emily Goodacre to end the game.

Letteriello threw all seven innings to earn the win, allowing two runs (one earned) on three hits, with two walks and a strikeout. Belanger threw all seven innings in the nightcap for Rapid River, giving up five runs on five hits.

Gladstone (19-1) plays a doubleheader in Negaunee on Thursday.

Rapid River (9-6) will play in the Escanaba Invitational Friday and Saturday.

Click the thumbnails in the ARTICLE HIGHLIGHTS box above to see photos and video highlights.