Millington Shuts Down Esky In Softball Showdown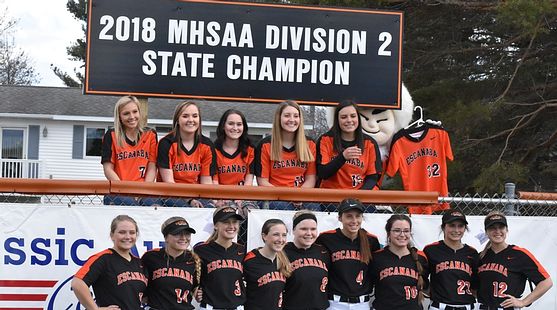 ESCANABA---First, the Escanaba High School softball program had a celebration. Then about an hour later, the Millington Cardinals had a celebration of their own.

The Eskymos unveiled a new outfield sign commemorating the 2018 Division Two state championship during a pre-game ceremony, then the Cardinals shut down the 2019 version of the Esjymos, 3-0, in a game between two of the state's best teams.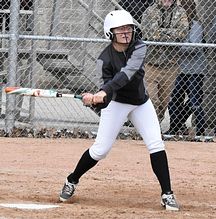 The Eskymos entered the game with a 13-0 record and a #1 ranking in the state in Division Two, and the Cardinals came in with a 16-2 record, ranked #1 in Division Three. Both had future NCAA-Division One pitchers in the circle. Both girls pitched well, but it was the Cardinals doing many of the little things right that made the difference.

Millington pitcher Gabbi Sherman, who has committed to Kent State University, was simply unhittable by the young Eskymo batting order. Sherman struck out 15 batters over seven innings, did not walk a batter, and had perfect defense behind her.

The only baserunner the Eskymos got was a leadoff double by senior Lexi Chaillier in the fourth inning with Escanbaa trailing 1-0. But the next two girls failed to get the bunt down, and Dakota Cloutier's bid for a base hit was thwarted by shiortstop Sabrina Gates.

Millington got its first run in the second inning when Sydney Bishop was hit by a pitch. She rode home on a double up the right center field gap by McKenna Slough.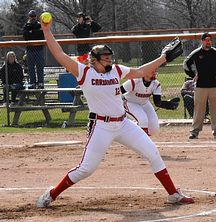 Escanaba pitfcher Gabi Salo, who has committed to play at the University of Wisconsin, was able to put zeros on the board until the fifth inning when her defense let her down. A fielding error at second base and a throwing error at third put two on, then leadoff batter Darrien Roberts ripped a two-out, two-run single to make it 3-0.

Salo ended up striking out ten batters and allowing four hits. She did not walk a batter, although she did hit two.

It was the second straight year that Millington came from downstate to Escanaba and earned a victory, after winning last year, 2-1.

Escanaba will be back in action Saturday morning with two games: against Marshfield at 9 a.m., and Gladstone at 11 a.m. Marshfield won Friday's other game, beating Rapid River, 12-2. Millington's JV team outslugged Norway, 24=13.

Click the thumbnails in the ARTICLE HIGHLIGHTS box above to see photos and videos taken by Johnny Schlenvogt, and hear post-game comments from Escanaba Softball Coach Gary Salo.