WALK-OFF WINNER: Eskymos Take Regional, 1-0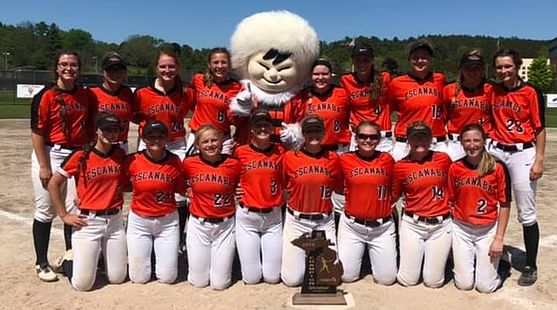 PETOSKEY---The Escanaba Eskymos earned a return trip to the state quarterfinals on Saturday with a dramatic 1-0 in over Muskegon Oakridge in the MHSAA Division two regional championship game on Saturday in Petoskey.

This followed a 10-0 win over Remus Chippewa Hills in the regional semifinal.

In the championship game, Gabi Salo allowed just two base hits, striking out 17 batters along the way. But the offense couldn't do much either, until Salo helped her own cause by ripping a single to right field. Jalin Olson followed with a bunt, sending courtesy runner Emily Moore to second base. That brought up Heather Bergstrom, and she ripped a base hit to right field for the walk-off single, sending the defending state champion Eskymos to the Elite Eight in the state.



It was sweet for Salo, who had struck out in her previous three at-bats.

And it allowed her, and her teammates, to get on the bus, and head for home, only to return below the bridge again on Tuesday.




Nicole Kamin had two hits for the Eskymos.


Earlier in the day, the Eskymos scored three runs in the bottom of the third inning to break a scoreless tie. Lexi Chaillier's two-run hit in the third inning put Escanaba in front, then Salo hit a sacrifice fly to make it a 3-0 game.


Escanaba added two runs in the bottom of the fourth on asingle by Carsyn Segorski, making it 5-0. Then in the fifth, Bersgstrom's RBI single made it a 6-0 lead.


The Eskymos wrapped things up in the bottom of the sixth, as Olson singled in one run, Bergstrom brought in another with a sacrifice fly. Maddy Block singled home a run to make it 9-0, and an error on Segorski's ground ball brought home Escanaba's tenth and final run.


Salo thre the first five innings, allowing one base hit and striking out ten batters. Emily Moore pitched a scoreless sixth inning.


Escanaba (31-3) advances to the state quarterfinal on Tuesday, with a game against the Freeland Falcons. Game time is 4:00 from the campus of Central Michigan University.

The game will be broadcast live on WCHT-AM (NewsTalk 600), and on-line at www.rrnsports.com, starting at 3:40 p.m.