CELEBRATION TIME! Community Greets Eskymos

ESCANABA---The Escanaba High School softball team was the toast of the town Tuesday at a community-wide celebration of the girls' second straight state championship. The school unveiled a state championship sign in center field at Lemerand Park, to the right of last year's state title sign.

"It's a great, great way to end the year," Eskymo Head Coach Gary Salo said, "because you're trying to have the whole community together, and we did that. Just to see all the kids, all the excitement, it was a special way to end it."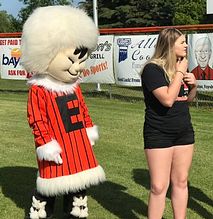 The Eskymos also unveiled a sign that recognizes the team's Highest-in-the-state Grade Point Average at the ceremony, which was emceed by Athletic Director Nick Nolde.

"I'm a little overwhelmed by all of the people that are here showing their support," said Eskymo senior Lexi Chaillier, who will play softball at Bay College next spring. "I'm really happy that all these little kids are here, and we're able to be someone that they all look up to."

The Eskymo players ran the bases with the young Little Leaguers and travel ball players, and then had the post-season team awards event in the pavilion. The kids munched on some 200 cookies, donated by Mike Dagenais and Elmer's County Market.

"It's pretty cool to have all these little girls here, and to see the future Eskymos here," Eskymo junior Nicole Kamin said, moments after re-enacting her home run trot from the dramatic two-run shot that she hit to win the state semifinal game . "Just keep sticking with it, and things happen like this. We just kept on fighting through, I guess."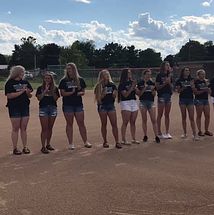 "And we had our star pitcher Gabi (Salo) coming back, and (catcher) Dakota (Cloutier) coming back, so we knew we could do it."

All three of them will be seniors next year as they try to win a third state title.

"To win a state title, to win two, you know, puts them in that 'legend' status," Salo said. "And then to really top it off, to be the highest GPA in all of Division Two, really says what a special group of young ladies this really is."

Click the thumnbails in the ARTICLE HIGHLIGHTS above to see photos and video clips, and list to comments from Chaillier, Kamin, and Salo.