Opportunistic Kingsford Eliminates Escanaba, 5-1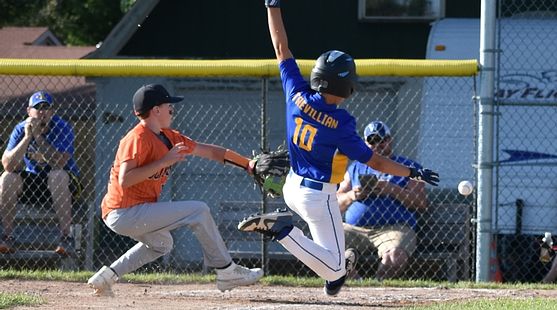 EAST KINGSFORD---The Kingsford Major Boys (age 11-12) advanced to the District Ten championship game Wednesday with a 5-1 win over Escanaba.

Kingsford will face Iron Mountain North in the title game Thursday night.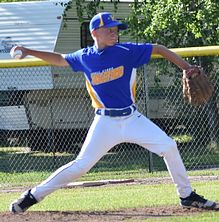 It was a rematch of Sunday's game between the two teams, with Escanaba determined to make up for a 10-0 loss in that first contest.

And this one was a much tighter game, with Kingsford taking advantage of nearly every baserunner it got against Escanaba pitcher Ashton Rymkos.

Kingsford took a 1-0 lead in the bottom of the first inning when Gavin Trevillian got a one-out double, and scored on a wild pitch.

Escanaba had a chance to get even in the top of the second inning when Lennox Peacock drew a one-out walk, and Owen Fields was safe on an error. But Brian Boutilier and Max LeDuc both struck out to end the Escanaba threat.

Kingsford doubled its lead in the bottom of the second inning. Jack Kriegl led off with a walk, advanced on two passed balls, and scored on a ground ball by Nolan Hendrickson.

The visitors had another chance to get even in the top of the fourth inning when Nolan Bink led off with a base hit, and Brandon Gardiner came off the bench to smack a base hit to left field. But Cade Krueger grounded out, keeping Kingsford in front, 2-0.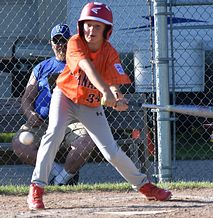 Kingsford added a run in the bottom of the fourth inning when Andres Finley was hit by a pitch, Trent McLain singled, and Kriegl grounded out.

Then in the fifth inning, Trevillian had an RBI double and Finley had a run-scoring single to give Kingsford more breathing room.

Escanaba tried to rally in the top of the sixth as Cannon Arnt led off with a single and Bink was safe on an error.

But they could get just one run, on a grounder by Peacock, and Kingford earned the win.

Trevillian threw the first two innings for Kingsford, allowing no runs on one hit. He struck out three, Dakota Woodward tossed the final four innings to earn the win, allowing one run on three hits. He also fanned three batters.

Rymkos threw well for Escanaba, using just 68 pitches to go all five inningsl He gave up five runs on six hits, and walked just one batter. He struck out three.

Click the thumbnails in the ARTICLE HIGHLIGHTS box above to see photos, videos from the game.