GNC WINNER: Eskymos Rally Without QB, Coach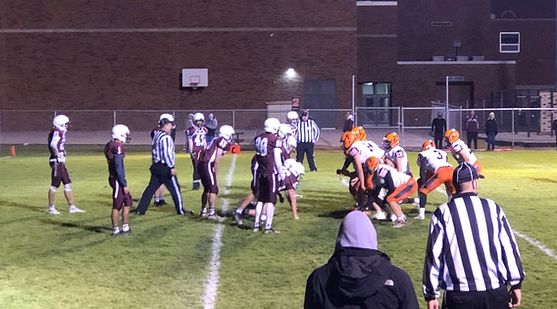 Video Clips taken by EHS student Nick Kolich

MENOMINEE---The Escanaba Eskymos scored 19 unanswered points, and playing without their quarterback and head coach, rallied past the Menominee Maroons, 26-20, Thursday night at Menominee's Waldon Blesch Stadium.

It was a key Great Northern Conference matchup, with both teams coming in with 4-1 overall records. It was a game full of turnovers, one that started quickly for the Maroons but ended with a flurry for the Eskymos.

Escanaba had to play without senior quarterback Ethan Silverstone, who sat out with an injury, pushing Brandon Frazer into the starting role. He struggled with four interceptions, but was able to engineer the Eskymo offense down the field three times in the final 35 minutes, and the defense pitched a shutout.

Josh Bruntjens had a huge night, scoring three of Escanaba's four touchdowns. He scored on a four-yard run in the first quarter to give the Eskymos the lead, but Menominee came back on touchdown runs of 36 and 6 yards by Keagan Monroe. The Maroons missed the extra point, and failed on a two-point run, so it was 12-7.

After another Eskymo turnover, Dante Santorelli caught a 30-yard touchdown pass, and after a two-point conversion run, Menominee lead, 20-7.

Frazer finally got into his groove on a drive late in the second quarter, completing all four of his pass attempts, including a 28-yard touchdown to Dayton Miron.

That cut it to 20-14 at halftime.

Escanaba forced two straight Menominee turnovers in the third quarter, but couldn't take advantage. Monroe got his third pass interception of the game, and later in the third quarter, after several disputed plays went against the Eskymos, Escanaba Head Coach Dave Howes had seen enough. He argued the measurement on a Menominee fourth down play, profusely, and was ejected from the game.

Howes' team responded from there.

The defense got an interception, and then Bruntjens broke free for an electrifying 39-yard run touchdown run to tie the game at 20-20. The defense stiffened again at the 45 yard-line, with the Maroons missing on a fourth down opportunity.

The Eskymos went on a 55-yard drive, capped by a six-yard run by Bruntjens, and Escanaba had a 26-20 lead with five minutes left in the game.

Bruntjens ended up with 145 yards rushing and three touchdowns. Monroe led the Maroons with two touchdown runs and three pass interceptions on defense.

Escanaba (5-1) hosts Gladstone next Friday night. The game will be broadcast on WGMV-FM (Maverick 106.3), WCHT-AM (NewsTalk 600), and on-line at www.rrnsports.com.