No. 8 Milwaukee Tech Men Roll Past Norse, 98-82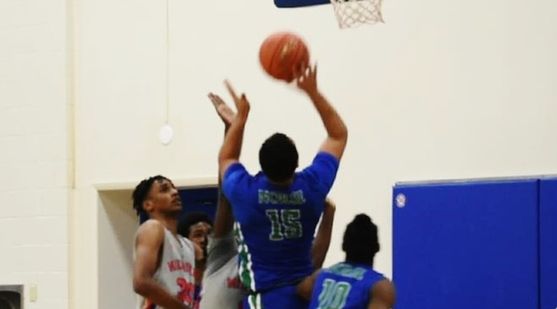 ESCANABA---The Bay College Norse men's basketball team battled the eighth-ranked Milwaukee Tech Stormers on Sunday and came up short, 98-82, in a foul-filled game at the Bay College gym. The Norse jumped to an early 12-6 lead but the Stormers went on a 16-2 run to take control of the game. Milwaukee Tech led by as many as 27 points.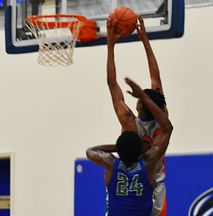 "For 30 out of the 40 minutes, we won the game," Bay College Coach Matt Johnson said. "But for the last ten minutes of the first half, they outscored us by 19 points or so. If we can weather the storm a little bit more, we're right there. I'm definitely not disappointed in the effort. The kids worked their tails off."

"I thought our guys did an awesome job competing in the first half. We did some really good things early, and we did some good things late. But they make you really, really uncomfortable, and during that last ten minutes of the first half, they really took it to us."

Ryan Robinette attacked the basket for a layup, Chris Dobessi had a drifing layup and a left-wing triple, and Tristan Masuga knocked down a triple to make it a 12-6 Norse lead.

The Stormers, behind the shooting of Jason Webb, Jr., outscored the Norse, 22-7, to take a 28-19 lead.

Luke Mattson had a tough rebound and basket in the paint to bring the Norse to within 28-21, and later, a Christian Alexander "and-one" brought Bay to within 34-26.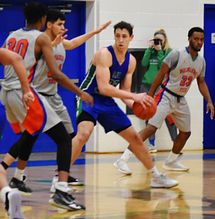 Milwaukee Tech, however. finished the first half with a 16-5 run, as Webb, Jr., torched the Norse for six three-point baskets and 24 first half points.

Melvin Lee III and Justin Briley both had seven points to help Milwaukee Tech lead, 50-31, at halftime.

Early in the second half, a slam dunk by Ozzie Johnson, and a Johnson layup moments later, gave MATC its biggest lead of the game, 62-35, with 16:35 left on the clock.

The Norse made a run midway through the second half to shave that 27-point deficit in half, and a frustrated Stormer Coach Randy Casey got a technical foul at the 10:43 mark.

Matt Wagner made both technical shots, and Alexander sank two the two free throws on the original foul call, and all of a sudden, Bay was within 73-60.

Delano Clanton had the answer for the Stormers with a lay-up, steal, and lay-up, to restore a comfortable 17-point lead for his team.

Trailing 80-63, the Norse had another run in them. Khalid Fleming knocked down a jumper, and after an Alexander blocked shot, Mattson came down and scored another basket in the paint. That cut it to 80-69, but that was as close as Bay would get.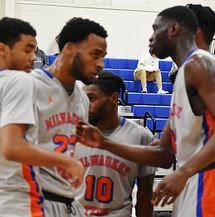 Clanton nailed a triple to make it 83-69, and he knocked down a couple of free throws a moment later, as the Stormers swept the season series for the third straight year against the Norse. They improved to 12-1 on this season, preserving the #8 ranking.

Alexander led the Norse with 23 points and 17 rebounds. Eighteen of those points came in the second half, and he made nine of his ten free throw attempts.

"We got him the ball," Johnson said. "That's what we talked about at halftime. We needed to get him touches, and we needed to get him touches in a position where he couild be effective. We got him good looks. He made things happen, both passing the ball, and scoring with the ball. He dominated. I thought he had a great second half."

Wagner had 13 points, and Robinette added 12.

For MATC, Webb, Jr., had 26 points and Clanton added 19. Ozzie Johnson chipped in 15 points and Lee III had 13. Ayomde Ajiboye had nine points and ten rebounds.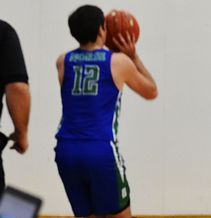 Bay College committed 24 turnovers and yielded 18 offensive rebounds.

"That gives them 42 extra possessions," Johnson said. "I don't think against a team of this caliber, you can do that. They scored 31 points off of our turnovers."

Bay College fell to 7-5 on the season. The Norse travel to Minnesota to face Rochester Tech on Saturday, a team they lost to earlier this season. Game time is 4:00 ET on Saturday. The game will be broadcast on Maverick 106.3 FM and radioresultsnetwork.com.

Click the thumbnails in the ARTICLE HIGHLIGHTS box above to see photos and videos, and hear Johnson's post-game comments. Also listen to Dondre Yohe's player spotlight interview.