Norse Rally For Big Road Win In Minnesota, 80-76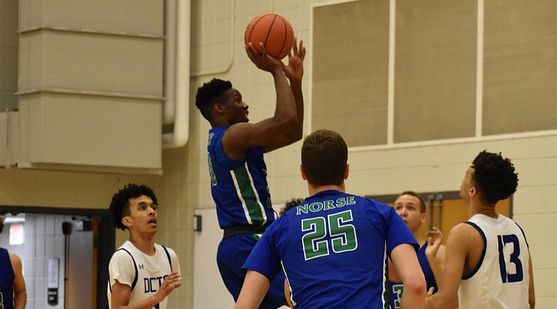 INVER GROVE HTS, Minn.---The Bay College men's basketball team rallied from 16 points down in the second half Wednesday night and beat the Dakota County Technical College Blue Knights, 80-76, in suburban Minneapolis.

It was the first of four regional seeding games for the Norse, with two coming up against Gogebic Community College and a rematch with DCTC in ten days in Escanaba.


The Blue Knights were playing without their leading scorer, Harlyn Owens (22.6 ppg), who sat out with an injury. Even so, DCTC overcame two Christian Alexander slam dunks in the first half to take a 41-32 lead into the locker room.

Deshawn Walker and Lorenzo Smith both scored eight points in the paint during that first half for DCTC, and Amitri Collins-Westlund ended the first half with a triple from half court at the buzzer to complete a 12-0 Blue Knights run.

But in the second half, Chris Dobessi took over at both ends of the court. He scored 16 of his game-high 25 points in the second half, and Alexander was equally dominating, scoring 17 points and grabbing eleven rebounds.

Dobessi had 12 rebounds to go with his 25 points.

The Norse trailed, 66-58, with 6:48 to play after Westlund sank another triple. But Matt Wagner, playing on a bum ankle from a weekend injury, answered with a three of his own moments later.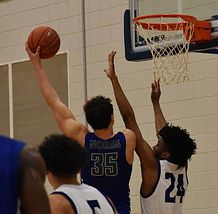 That started a 17-5 run that included a Ryan Robinette driving "and-one" basket and a coast-to-coast drive by Dobessi.

That happened right after Marcus Harris, in the game for a defense-offense switch, took a key charge that gave the Norse a momentum-sustaining possession.

Wagner had 13 points and five rebounds, and Robinette contributed 11 points, five rebounds, and four assists.

Tristan Masuga added 12 points as he made five of his shots from the floor. Walker had a double-double of ten points and ten rebounds for DCTC (11-6 overall). Collins-Westlund led the Blue Knights with 21 points. Smith and Daevonte Munson both had 14 points.

Bay College improved to 11-6 on the season and won their fourth straight game.

The Norse travel to Alpena Community College Saturday night. Tip-off is 7:30.

The game will be broadcast on WGMV-FM (Maverick 106.3) and on-line at www.radioresultsnetwork.com.

Click the thumbnails in the ARTICLE HIGHLIGHTS box above to see photos and videos, and listen to post-game comments from Dobessi, Alexander, and Coach Matt Johnson. Also hear Alexander's player spotlight interview.