Eskymos Fight Off Second Half Emerald Challenge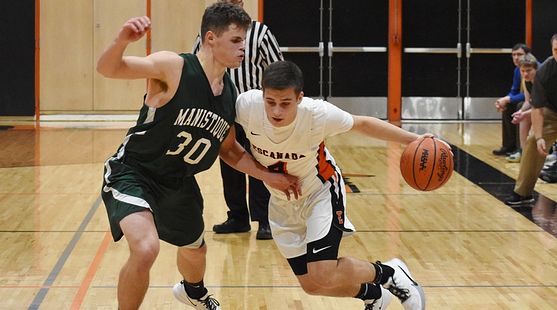 ESCANABA---The Manistique Emeralds boys basketball team rallied from 15 points down to take the lead in the third quarter, but the Escanaba Eskymos rebounded to post a 77-70 win Tuesday night in Escanaba.

"I'm proud of the win," Escanaba Coach Tracy Hudson said. "They played some of our opponents really tough. We had to perimter and we were up 16 but they just kept battling. The (Schyler) Andersen kid got hot, and some other guys started knocking down shots."


"We just had to battle and fight them off. And like I told the guys, we're 8-4, and 4-0 in the GNC. We're feeling real good about we're at, but we have to go back to the drawing board and shore up some things like perimiter defense and get ready for the Soo on Saturday."

Escanaba led, 25-10, in the second quarter, using a line-up mixed with starters and bench players. But the Emeralds got triples from Andersen, Mark Block, and Joey Hoholik (two of them) and Andersen added gtwo shorter jump shots.

All of a sudden, the Escanaba lead was down to 36-30 at halftime, and the Emeralds kept coming in the third quarter. When Andersen nailed a triple midway through the third quarter, Manistique had taken an improbable 42-41 lead on the road.

"I thought this was our best game of the year so far," Manistique Coach Cody Kangas said. "We shot really well. We got the leading scorers into the column they needed to. Offensively, I thought we had our best night. But I told these giys at the beginning of the year that we're not going to win games in the 70's. We're going to win games into the 60's, so we let them score a little bit too much tonight."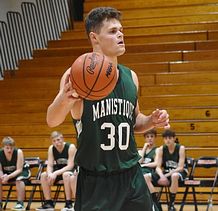 Escanaba sophomore Colin Hudson got an "and-one" basket in the paint to put the Eskymos back on top, 44-42, then after a couple Eskymo free throws made it 46-42, Hoholik canned another triple to cut the Manistique deficit to 46-45.

Bay College recruit Peytin Fedell then knocked down a triple from the right wing to restore the four point lead at 49-45 late in the third quarter.

Escanaba led, 57-52, after the third quarter, then got some separation early in the fourth quarter with a 6-0 run to take a 63-52 lead as both Carter Hudson and Fedell both scored inside.

The Emeralds didn't go away, as Andersen and Hoholik both made three's to bring Manistique to within six twice down the stretch, but they could get no closer.

Andersen, who was his conference's Offensive Player of the Year in football, and played summer baseball in Escanaba with the Cubs, led the Emeralds with 30 points. Hoholik added 17 points and Mark Block contributed 15 points.

"We just knew that if there was any chance of us getting back into the game, we had to get the ball rolling right there," Andersen said of the team's timeout trailing 25-10. "There was no holding back anymore. The guys stepped up. I'm proud of my teammates and we all did what we needed to do. I think I'm just coming out of s lump that I've been in, honestly. Teammates are setting me up. I'm going to give them all the credit."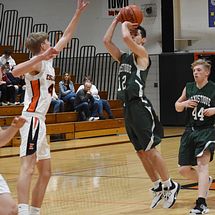 Escanaba was led by Fedell's 27 points, as he followed up his 29-point performance in Houghton with another strong game.

Carter Hudson added 19 points and his brother, Colin, chipped in nine points.

Escanaba improved to 8-4 on the season and travels to Sault Ste. Marie on Saturday. Manistique fell to 2-9 on the season and will host Negaunee on Friday.

The Emeralds-Miners game will be broadcast on WTIQ-AM (1490) and on-line at www.radioresultsnetwork.com.

Escanaba won Tuesday night's JV game over the Emeralds, 67-33,

Click the thumbnails in the ARTICLE HIGHLIGHTS box above to see photos and videos, and hear post-game comments from both coaches and Andersen.