Bay College Men Hold Off Truman College, 71-64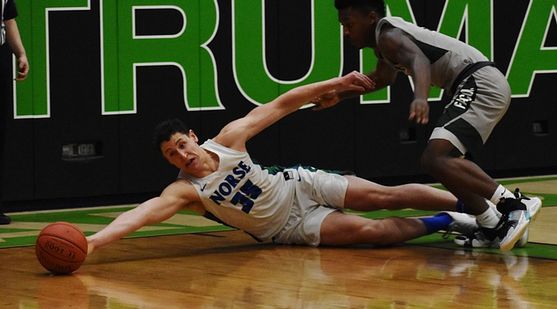 CHICAGO---The Bay College Norse men's basketball team had a war on its hands for a second straight day on Saturday, and the Norse pulled out another tight victory in their regular season finale, 71-64, over Truman College.

The win allowed the Norse to finish the regular season with a 19-9 record, and it was the team's third win in four days, all of them on the road, and in three different gyms.


Saturday's game was a physical battle similiar to Friday night's game. That contest saw the Norse beat Daley College, 72-66.

CLICK HERE to read the details of Friday night's win.

On Saturday, the Norse trailed, 7-6, two minutes into the game before Matt Wagner knocked down a triple to put Bay in front. They would never lose that lead, but sure didn't make it easy on themselves as the athletic Hawks hung around all afternoon.

Christian Alexander scored six early points, but spent the rest of the day in foul trouble and eventually fouled out. He wasn't the only one to be saddled with fouls, as Marcus Harris, Chris Dobessi, and Luke Mattson all were whistled for four fouls each.

The Norse led, 18-10, when Ryan Robinette knocked down a three-pointer, and the lead grew to 28-19 in the final two minutes when Harris nailed a triple. Robinette hit another three-pointer just before halftime to give Bay College a 33-24 lead.

The Hawks kept clawing, though, closing to within 35-28 at halftime.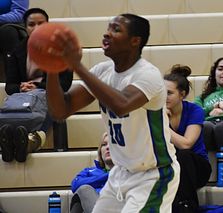 In the seccond half, Chris Dobessi attacked the basket on two straight plays, scooping one home for two and getting to the foul line for a pair of free throws. He led the Norse with 16 points and 15 rebounds, and he had two steals.

Bay kept leads of between seven and 12 points over the final ten minutes, but just like in last year's match-up, they couldn't put the Hawks away until the final minute.

That's when Robinette, who had a frustrating game for much of the afternoon, attacked the basket for a scoop shot that gave the Norse a seven-point lead.

Robinette finished the game with 14 points (on 5-for-18 shooting) and six rebounds.

Harris was active all afternoon long, diving after loose balls and playing lock-down defense on Truman's Raymond Grant. Harris, a Brimley High School graduate, also knocked down a pair of three-point baskets and finished with eleven points.

Wagner scored 13 points, knocking down three triples, and he had three assists and four rebounds.


Truman College (7-19 overall) was led by 11 points each from Grant and Austin Freeman. Coby San Juan had ten points and Michael Harris contributed eight.

Bay College finished its regular season with a 19-9 record and top seed in the eastern half of the NJCAA Region 13 tournament. The Norse earned a first round bye and will play next on Wednesday, Feb. 26, against the winner of the Dakota County Technical College vs Gogebic Community College game. That game is set for Feb. 22 in Minneapolis.

The Norse playoff game will be played at 8 p.m. on Feb. 26 and it will be broadcast on Maverick 106.3 FM and www.radioresultsnetwork.com.

Click the thumbnails in the ARTICLE HIGHLIGHTS box above to see photos and videos, and hear post-game comments from Harris and Coach Johnson. Also hear Ryan Robinette's player spotlight interview.