Gladstone's Creten Looks To Future After Solid Year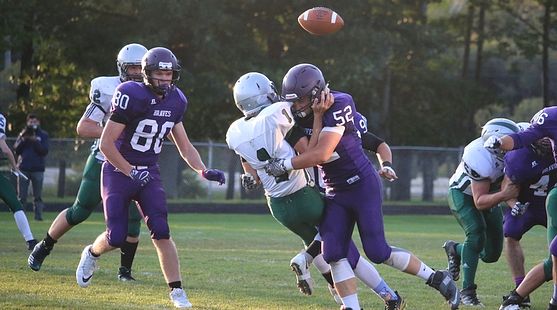 GLADSTONE---A Gladstone High School graduate had a breakout year as a freshman in college football, and now he's looking to expand his opportunities heading into this upcoming season.

Christian Creten was the leading tackler on the Finlandia University football team last season, finishing with 114 tackles (56 solo, 68 assisted) in ten games for the Lions. He led the Michigan Intercollegiate Athletic Association in solo tackles, and tackles per game.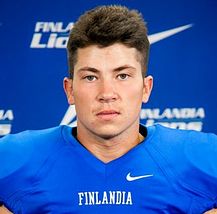 In eight of his ten games last season as a linebacker, he had double-digit tackles, including a career high of 17 against Kalamazoo College on Oct. 12.

Creten's performances were one of the bright spots for the Lions in 2019, as they endured a 0-10 season.

Creten does not plan to return to Finlanida next fall. He entered the NCAA Transfer Portal on Monday, the first step toward transferring to another school. Now, he'd like a shot at making another university's roster.

"Basically, you tell your coach that you're not going to be coming back, and your name is put out there with all of your stats for all of the college coaches to see," Creten said. "I'm going to explore my options and see what other places have for me. I'd like to thank all of my coaches up there at the school, it was a great time and I'm glad I went there. Hopefully, I find my future home."

Creten learned on Friday that he was ranked among the top five among Michigan schools in those tackle categories, including the Big Ten schools.

He knows he's not playing the level of competition that the D-1 schools are playing in Ann Arbor and East Lansing, but finding out the ranking was "cool" nonetheless. Creten, a business major, was also ranked tenth in the country in NCAA-III in solo tackles.


"I was actually sitting in my brother (Aedan) room with him playing video games and my athletic trainer up at Finlandia sent me the link," Creten said. "I think it's cool being ranked up there with everyone else in the state."

The linebacker position was a new world for him in college, having played defensive end at Gladstone High School.

"It was pretty hard at first," Creten said. "I didn't even know what the linebacker positions were called. My linebacker coach helped me out a lot. He played up there for four years and taught me a lot."

Creten's success at Finlandia came after a strong career at Gladstone, where he was an All-Upper Peninsula selection in both his junior and senior years.

In 2018, Creten had 63 tackles (15 for loss), along with three quarterback sacks and two forced fumbles.

In 2017, Creten had 49 tackles (18 unassisted) six quarterback sacks, a safety (against Manistique), and a 29-yard touchdown return on a blocked punt (against Gwinn).

Just like everyone, Creten is trying to stay in shape the best he can during this coronavirus crisis.

"Home workouts, running, sprinting, all that good stuff," Creten said. "Hopefully, the gyms open up soon so I can get back in there."

And he's hoping, just like all college athletes, that the pandemic passes and football is able to be played this fall. No matter where that might be.

Click the thumbnails in the ARTICLE HIGHLIGHTS box above to watch/hear our interview with Creten, a replay of his high school touchdown, and see photos, from the RRN archives and from Finlandia University.