U.P. Baseball League Plans To Open Season June 19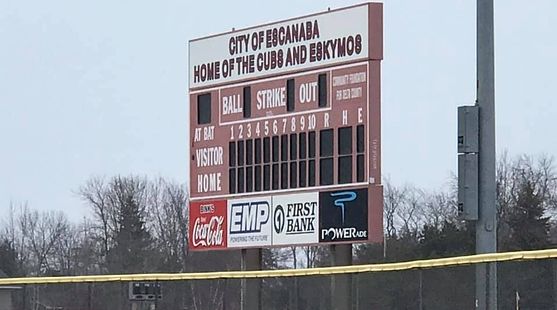 IRON MOUNTAIN---Plans were announced Tuesday night to form an Upper Peninsula baseball team for teenagers, in place of the American Legion baseball programs that have been cancelled for the summer statewide.

The U19 Upper Peninsula Baseball League plans to play an entirely Upper Peninsula schedule, using the same rules that would have been used in an American Legion season.

The plan, says organizer Paul Julian of the Iron Mountain Golds, is to open the season with a round-robin tournament June 19-21 in Escanaba and Gladstone.

"When the Legion pulled the plug, we all decided to keep our teams together and play as a U.P. league," Julian said after meeting with other U.P. coaches over a Zoom conference. "

The teams signing up to play include Escanaba, Gladstone, Bark River, Menominee, Negaunee, Iron Mountain, and two Marquette teams.

Gladstone Indians Manager Justin Jurek says he's glad to be a part of something for the kids who have had so much taken away from them the past few months.

"It's great to have something to be excited about," said Jurek, who's program won the last three Class A Michigan American Legion Baseball state championships. "It's going to be our own little league, but we're going to base everything off the American Legion rules that we've been playing by for so long now."

Julian says that insurance has been lined up, and teams can begin practicing.

"Here in Iron Mountain, we will be starting practice tomorrow," Julian said. "Other U.P. teams should be practicing no later than June 1st. So we're geared up and getting ready to go. For practice, we will follow the guidelines our governor has set, which is social distancing and groups of no more than ten."

Julian says some kids can be in the batting cages while others can be in the outfield and still others can be throwing in the bullpen. Jurek says that in Gladstone, they can split the kids into groups as well.

"By keeping the groups small, we should be able to adhere to all of the guidelines and keep everyone safe," Jurek said.

Bark River Bucs Manager Matt Richer is on board.

"Some kids have been itching to do something, and are excited that they will get to play baseball," Richer said. "Even I'm sure practice for the guys will be a lot of fun."

Richer says they're planning to start practice this Friday at 5:00, although he's not sure yet if he can use the Bucs' home field because it is a townhsip park. He was hoping to have more on that sometime on Wednesday.

Details are still being worked out on maintaining social distancing and how games will be managed come June 19th. One obvious question is: how can you play games with only groups of ten allowed?

"We're hoping that things get loosened up a bit as time goes on here," Julian said. "There are some other things we can do, like no concessions, roping off the bleachers, asking people to bring their own seating to social distance. On the field, we can be creative, and have the nine on the field and if we have to, move kids outside of the dugout, social distance them that way. Again, we're hoping things (gathering size) can loosen up a bit by the time we get to that first tournament."

Jurek agrees.

"Everything should be fine, as long as we don't get cut down by any legal measure," Jurek said. "It's definitely exciting for all the kids who haven't had a lot of excitement, having had their high school season taken from them. Giving them some hope that they'll be able to play, that's important."

Escanaba Cubs Manager Jon Bintner is being cautiously optimistic, and is not having any official practices right away.

"I've been told by Mrs. (Kim) Peterson, our rec director, that she would prefer that we have no more than nine guys plus a coach at any given time, because we play on city-owned parks," Bintner said. "These are steps in a positive direction. If Governor Whitmer gives us the permission to go, it's definitely something to give the kids something to look forward to."

Bintner says that if the current Stay Home, Stay Safe order ends on June 12th here in the Upper Peninsula, then he's ready to go on the 13th.

"Hopefully, June 13th, we can start, and that doesn't give us much time, tentatively playing on the 19th," Bintner said.

Jurek says that he knows that not everybody will be on board.

"There's obviously going to be some opposition to it, but I feel like we've got to start moving in the direction of a little bit of freedom soon," Jurek said.

Some of that freedom has already happened here in the U.P., as Whitmer has allowed bars and restaurants to reopen as of last Friday. Retail stores were also allowed to re-open, all with proper social distancing and capacity limits.

The gatherings of up to ten people were allowed in the U.P. before the rest of the state, due to the low numbers of virus cases in the region.

The season will end July 22 with an Upper Peninsula championship at a site to be determined. That is the same date that the Legion Zone Five tournament was going to be held.

"There's not one leader,' Julian said. "A lot of these guys have been coaching for years, and we're doing this all together, for the kids. We put our ideas together. Eight coaches leading on the field, and leading this organization together."

Jurek says that putting this together will also be big for the community, which has supported the kids through it all. He says it would be great for the Gladstone community to win a fourth straight title this summer.

"It was a big hit for the community when the American Legion season got cancelled," he said. "The whole community has been behind us the last couple of years and after we got that third one, everyone was looking to see how many we could get. Hopefully, this can bring back a little excitement to (U.P.) baseball."

So, what's the message to the kids across the Central U.P.

"If it were me, I'd find a bucket of balls, hit the cage, do some throwing," Bintner said. "They can shake that rust off. So now, if you're interested in playing baseball and you missed out on the high school activities, like base running and stuff, you can do that on your own, too, and hit the ground running when we get the OK. Any kind of positivity right now is definitely good for the morale."

"Start getting your arms working," Julian said. "We've lost a lot of time. Go out there with dad, your best friend, wherever you can. Because practice is starting soon, and within two weeks, you'll be back on a field playing baseball."

Click the AUDIO buttons above to hear interviews with Julian, Jurek, and Bintner.