DOMINATING PITCHING: Henriksen Leads Blues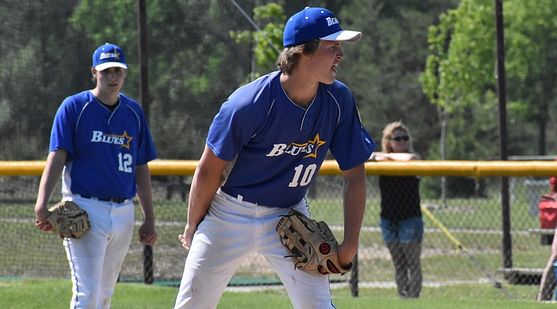 IRON MOUNTAIN---Blake Henriksen turned in a dominating pitching performance Thursday night for the Marquette Blues U19 Upper Peninsula baseball team, throwing a two-hitter as the Blues shut down Iron Mountain, 3-0, at Liuna Field in Iron Mountain.

Henriksen struck out 15 batters as he navigated all seven innings using 99 pitches. Exactly two-thirds of those pitches were strikes. He also walked only one batter to go along with those 15 strikeouts.

The game was still in doubt despite Henriksen's dominance as the IM-Kingsford-Norway pitcher, Chad Johnson, also threw well. He scattered five hits over five innings of work, and all three runs against him were unearned runs. Two of the Marquette hits came off the bat of Hogan Nemetz, including an RBI double as part of a two-run Blues fifth inning.

The other run that inning scored on a groundout off the bat of Brock Taylor.

Marquette's first run scored on an RBI single in the first inning by Jon Jason.

Iron Mountain's Hunter McCarthy led off the fifth inning with a base hit, but Henriksen struck out the next three men to keep it a 3-0 game.

Marquette hosts Negaunee in the annual Fourth of July game Saturday morning at 10 a.m. Iron Mountain's next game is at home Monday night against Escanaba.