Eskymo Hockey Team Finally Celebrates Its Season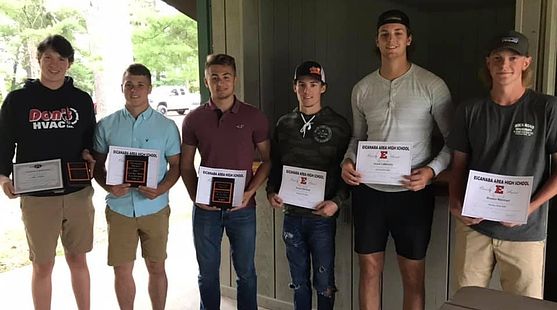 ESCANABA---The Escanaba High School hockey team waited four months to hold their annual post-season banquet Tuesday night.

It wasn't the usual gathering, with the fine food and packed room of invited guests inside the House of Ludington. There were no meatballs, no lines to the punch bowl, and no globs of delicious chocolate pudding-cake-thing.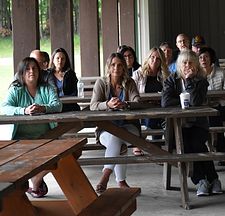 No big gathering of supporters of the Escanaba Eskymos hockey program.

But Tuesday night was still important, a social-distanced gathering of players, coaches, parents, and other family members, outdoors, at the Pioneer Trails Park Pavillion.

The hourlong event still honored the best moments of the Eskymo hockey season, still honored the six seniors, and had its usual funny moments as the senior players were asked to give speeches.

And there was a surprise at the end from the family of a fallen Eskymo.

The Escanaba hockey team finished the season in March with a 14-12-0 record, after a 5-3 loss to the Marquette Redmen in the regional championship game.

"We had a good year," Eskymo Coach Matt Hughes said. "The guys put in four months of hard work. We played some of the best teams in the state. We had some good moments. We gave Marquette all they could handle in that championship because they never gave up when they got behind. And they (Marquette) were going to play in the state semifinal but of course that didn't happen (due to COVID-19 cancelations).

"They played hard against Calumet at our place, Houghton was ranked, we went to Alpena and played Orchard Lake St. Mary and they were ranked and we played hard even though we lost. The guys have a lot to be proud of."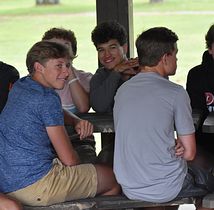 "It's a great feeling, but I couldn't have done it without my linemates, Ethan and Karson," Krutina said. "We put in a lot of work, me and Ethan, every summer, we were always working towards hockey. We just never gave up."

The man who scored three straight goals in that regional championship loss, Kyle Krutina, was named the Eskymos' Most Valuable Player. He had 26 goals and 18 assists for 44 points this season.

The Offensive Player of the Year was Ethan Silverstone, who had 19 goals and 29 assists for 48 points. The "little I" award for putting team ahead of self was Karson Krutina, and junior Nick Kolich was given the "MikeyD Character Award", named after sponsor Mike Dagenais, the co-owner of Elmer's County Market. Kolich was fourth on the team in scoring.

"He did everything we asked of him, even if it was firing up guys on the bench," Hughes said of Kolich.

Freshman Braden Sundquist received the team's Academic Award for leading the Eskymos with a 4.0 grade point average. Fellow freshman Sawyer LaMarch was given the "Player of Tommorow" award after he was fifth on the team in scoring with nine goals and eight assists for 17 points.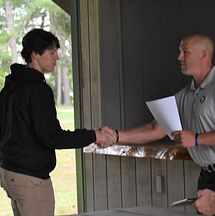 The Defensive Player of the Year was senior Luke Labre, and Labre was also named the team's Hobey Baker Character Award winner.

The third award of the night for Labre was perhaps the most emotional. It was a surprise from the family of former Eskymo Devin Fisher, who died of suicide on Feb. 13. Fisher was 18 years old and played with many of the current Eskymos.

Fisher's parents, Josh and Jamie, and sister Ariah, started a special scholarship fund for future Eskymos to help with college expenses. Labre was chosen for the first recipient of this $500 award.

"It's a blessing to win his award," Labre said. "I'm just very grateful that his family is doing fine and I hope that everything will be all right. We're always thinking of him. He was a big part of our hockey family and a true friend to me, too. I'd just like to say 'thank you' to them."

It was closure for six Eskymo seniors: Krutina, Silverstone, Labre, Braeden Reinhart (who as always had the funniest speech), Grant LaMarche (who will play baseball at Northwood University), and goaltender Trevor Denome, the team's usung hero who kept them in many games this season.

Click the thumbnails in the ARTICLE HIGHLIGHTS box above to see pictures and videos from Tuesday night's event.