Bay College Norse Host Cross Country Invitational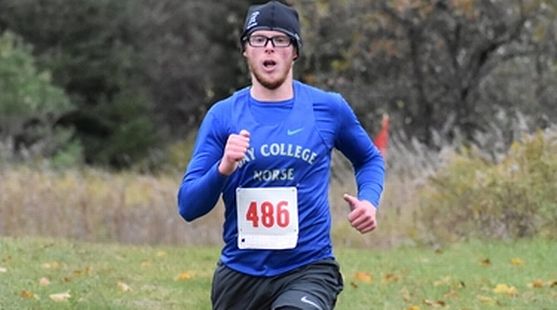 GLADSTONE---The Bay College Norse hosted a three-team cross country event on Saturday in Gladstone. Escanaba native Zach Rose won the men's race in 30:02 while North Central College took the top three spots in the women's race.

Bay's Bree Arsenault of North Central High School was the top women's finisher.

Click the thumbnails in the ARTICLE HIGHLIGHTS box above to see photos and videos, and hear comments from Zach Rose on his victory.

The following story was written by Bay College SID Mike Pankow:


The Bay College Cross Country Teams hosted the Bay College Invitational Saturday morning. With conditions turning cold and windy, the men's team came in first in their head-to-head matchup, while the women finished second out of three teams.

Zach Rose (FR, Escanaba, MI) topped all runners in the men's 8K. His time of 30:02 came in two minutes and 13 seconds faster than the next competitor. Matt Sedenquist (FR, Gladstone, MI) used a strong showing to come in third, finishing with a time of 32:23.

Alexander Morehouse (SO, Sugar Island, MI) improved from last week's time by 31 seconds, posting a time of 36:10. James Alexander (FR, Sault Ste. Marie, MI) followed closely behind, with his time listed as 36:34. John Stevenson III (FR, Escanaba, MI) managed to finish the event with a time of 61:01.

The Norse won the two-team event. Their finishes of first, third, fifth, sixth and eighth gave them a score of 23. Kirtland Community College amassed 32 points.

The Bay Women's Team was led by Bree Arsenault (FR, Hermansville, MI) with a time of 27:55. Olivia Anderson (So, Menominee, MI) continued her trend, improving by over two minutes with a time of 30:22. Sandra Boulton (FR, Carney, MI) returned to action this week, and posted a time of 31:08.6. Kaitlyn Millin (FR, Trenary, MI) ran a similar pace, and ended up just behind her with a time of 31:08.9.

North Central Michigan College had harriers finish in the top three spots to win the event.

They ended up with 25 points. Bay College took the next four spots behind North Central and totaled 33 points. Kirtland Community College finished with 45 points.

The Norse will finish their regular season next weekend. They will be at Muskegon Community College on Saturday, October 17 for the Jayhawk Invitational.