SIGNING DAY: Gladstone's Crow Headed To GVSU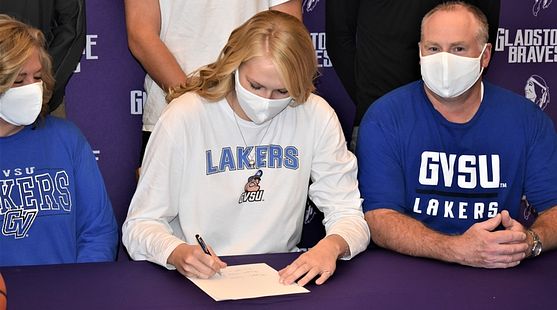 GLADSTONE---Gladstone High School multi-sport athlete Megan Crow signed her National Letter of Intent on Wednesday to play basketball at Grand Valley State University.

She also played softball and volleyball at Gladstone, but basketball is her love.

"It seems so surreal," Crow said. "Growing up, I always thought I wantted to play college basketball, but I didn't think it was really achievable because I was so slow and really overweight. I didn't feel that I had a lot of skill-set. But, then, working with my coaches along the way, they really pushed me to be the player that I am today."


"She's just a special, special person," Gladstone Coach Andy Cretens said. "On and off the court, she's been a great leader for us. She does some special things for us on the court, but her leadership off the court, a great leader in the classroom.Her character is her best attribute."

"She's just an outstanding teammate,: Crow's former coach, Karl Dollhopf agreed. "I've coached a lot of good players, but I think she's an ever better person. Her dedication and her heart, and she really cares about everubody else."

Crow says she narrowed her choices between Grand Valley State and Northern Michigan Univesity. So, why did Crow pick Grand Valley?

"Definitely, the atmosphere when I was down at Grand Valley (on a visit)," Crow said. "The girls are very funny and outgoing. The coaches were great and easy to approach and talk to."

And one other thing: her friend, Escanaba graduate Nicole Kamin, also decided to go to Grand Valley State. Kamin officially signed later in the day on Wednesday.

"Knowing that she was going to be there and was going to be my teammate in college was an amazing feeling," Crow said.